Learning
THAMMASAT COLLABORATES WITH BUSINESSPERSONS LIGHT UP AN INSPIRATION, BUILDING A NEW GENERATION OF ENTREPRENEURS WITH 'TU 109'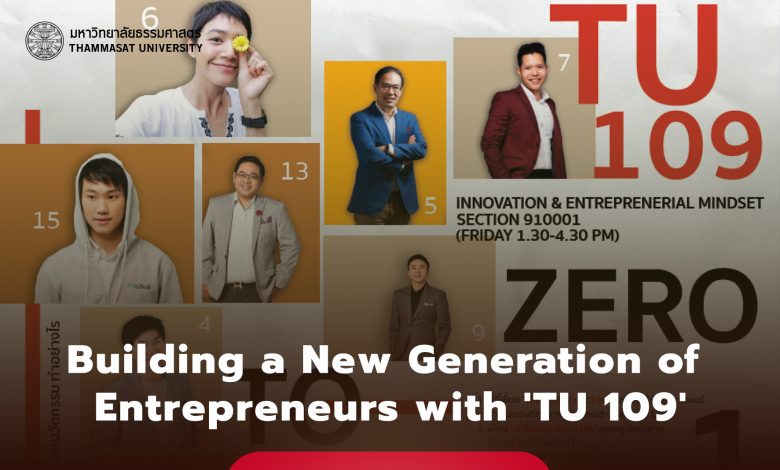 "The fastest way to change yourself is to hang out with people who are already the way you want to be." That's such a simple but expressive statement by Reed Hoffman, the founder of LinkedIn, a small startup company that eventually takes it step and become a world-class company with users all around the world. If you believe so, Thammasat University (TU) is more than willing to lead you to your dreams during the Next Normal era with a bag full of confidence.
Regardless of whether you are a new generation who is currently feeling deely desperate, unable to figure out solutions and there is only a dim light leading the way in the situation of COVID-19 pandemic. Or, you a parent who heathedly cares for your children while watching them encountering their misfortunes in a not-so-normal world.
Whoever you are … we don't want you to give up.
Thammasat would like to awaken your drive with our latest course; TU 109: Innovation & Entrepreneurial Mindset or Innovation and Entrepreneurial Thinking Process that will help arm you to professionally cope with the situation in the Post-COVID-19 era.
Although COVID-19 situation has been unstabilising the economy until it all collapses, marking a critical impact in history. Despite a group of entrepreneurs who are at the forefront of Thailand that turn adversity into great opportunity, and ready to endlessly extend success to a new level of standard.
So what makes the 30 leading businesspersons so different!!?
The Top Secret tricks of success will be completely disclosed here for the very first time!
The 30 entrepreneurs who are regarded as the "Course Mentors" will serve to help spark up ideas and make sure to inspire you, intensively conveying experiences and coaching students.
This is the first step towards becoming a Start Up while you are still in the university. This is a major step forward to becoming a business owner, a businessperson, and of course, the next unicorn.
Tee-Pattanapong Ranurak and Tong-Thanet Jirasawaekdilok, the two founders of the premium spa brand Divana and Dii Group, are entitled as the Course Directors of TU 109, said that they had the opportunities to teach students from various institutions discovering that the new generation is knowledgeable, fast and intelligent. Therefore, teaching using Knowledge-based learning as a foundation, may not be able to keep up with this change. We therefore develop courses and offer classes with Project-based learning –Activity-based learning and Team-based learning, with case studies supporting the exchange of learning among them.
"We will construct a variety of classes, gathering real entrepreneurs to share both their success, failures, and errors to optimize learning from actual experiences in a short period of time in person, including inviting experts in setting up companies to enter the stock market, etc., to meet with students in close proximity, TU 109 module will be available for students in Semester One of Freshmen Year, so we will be focusing on building passion and inspiring them as well.
"The principles are to teach and lecture less. What we will be lecturing about are experiences, passion and the key is that we will be teaching about failures. This is due to the fact that most classes are based on success. As for education from failures, the number is countable," explained the Course Director of TU 109.
As for TU 109, it was originated from the idea of Rector ​​Assoc. Prof. Gasinee Witoonchart who wishes to foster entrepreneurship skills in the modern world and would like to nurtur at least 1,000 students a year on the path of entrepreneurship that are good, ethical, and socially conscious.
Assoc. Prof. Gasinee therefore has designed and developed the curriculum together with Assoc. Prof. Dr. Pipop Udorn, Vice Rector for Academic Affairs, until finalised into 3 modules, namely TU 109, TU 209 and TU 309, which will be providing classes from Basic to Advanced levels, aiming for students to develop themselves so that they can earn money during their years as students. By creating the 88 Sandbox, which is Thammasat's newest ecosystem that will be acting as a platform to make leaps and bounds for potential startups both from within and outside the university.
Assoc. Prof. Gasinee said that TU 109 was initiated from the analysis of global education trends together with micro behavior, which is based on students' behavior and what they are interested to learn about. Then combine it with the DNA of Thammasat people who are projected to be socially responsible, socially conscious and helping to overlook the society.
"We aim that prior to students' graduation, they must have come up with their own business and are able to try testing in crowdfunding. In which, we will be having mentors to join the course and provide close advices. I am confident that students will obtain a deep-seated experience of innovation and entrepreneurship that is good, virtuous, and will definitely be an important force in a better society," said Assoc. Prof. Gasinee
Assoc. Prof. Dr. Pipop said that TU 109 innovation and entrepreneurial thinking process module is a general education course designed to build entrepreneurs who are ready for the world of tomorrow. By cultivating key concepts and skills from teachers with first-hand experience in the modern business world. The teaching approaches must be framed and be in line with the Sustainable Development Goals and focusing on enhancing life's essential attributes in accordance to the Thammasat's GREATS Plus Plus principles.
"Students will be having a chance to learn both concepts and skills to foster success for start-up businesses, as well as acquiring hands-on practice, both in terms of crowdfunding, 1-minute pitch preparation, storytelling, business analysis using the Business model canvas, and financial analysis," explained Assoc. Prof. Dr. Pipop