Learning
BBA Thammasat Won the Championship at Chulalongkorn Case Discovery 2021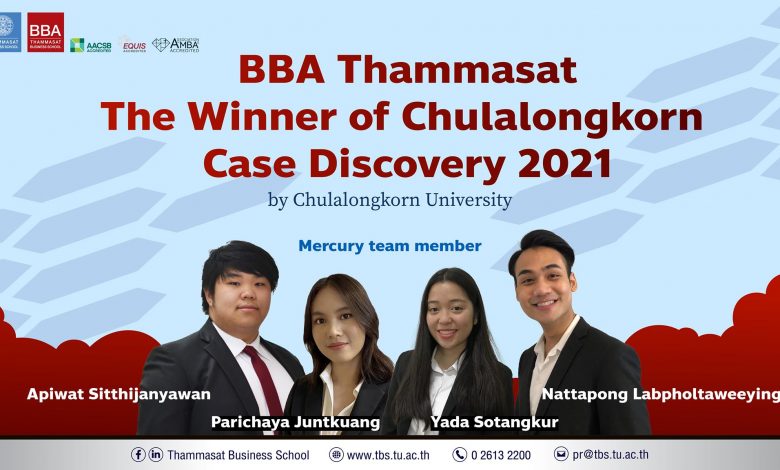 Chulalongkorn Case Discovery 2021 Team Mercury, a team of students from the Faculty of Commerce and Accounting (International Course), Thammasat University, consisting of Miss Yada Sotangkoon, Miss Pritchaya Jankuang, Mr. Nattapong, Lappontaweeying and Mr. Apiwat Sittijanyawan, won the first prize in a case study problem analysis of the Grab application's marketing plan organized by Chulalongkorn University.
The Chulalongkorn Case Discovery 2021 competition is a completion to analyze problems in a case study of the marketing plans of the Grab application. This year had 251 competing teams from throughout the country. Due to the COVID-19 situation, the competition was held online. In this competition, Team Mercury used experience from classroom learning and applied experience to the case study received from the referee.
Miss Pritchaya Jankuang said, "This year, the case study was the Grab application used in daily life." Therefore, she has in-depth knowledge and understanding of the system's service. However, the challenge in this competition was how to make the application able to expand the market beyond only the current main users who are students. So, she had to study the needs of other customer groups in particular.
Miss Yada Sotangkoon mentioned the question in the competition about how to make GrabMart the leader in the market of on-demand shopping service provision or provision of convenient services specific to each user need. The simplicity of this year's question was from how the application is already used in daily life, causing Miss Yada to have in-depth understanding of Grab services. However, the challenge in this competition was how to make Grab's market grow beyond the current main users who are students. The team had to study the needs of other customer groups. We divided tasks clearly, which made us able to work more easily and more quickly after receiving the question.
Mr. Apiwat Sittijanyawan added, "In this competition, we used knowledge on the subjects in our studies such as finance and marketing to adapt to the question. Because of limited time in the competition, we had no time to open books or slides. We had to draw on our understanding in classes for immediate application, which was a challenge."
"This case allowed us to realize that, although the things we see or use in everyday life, like food delivery applications, were created to meet market demand, we have to go deeper into users' basic needs and make modifications, changes or developments while using that point. Moreover, this competition gave us experience that normally takes us time to feel, meaning we had to work together with the greatest efficiency."
"Our team has something in that we are confident of having no less than other teams, which is understanding. Every team member had the same objective to learn as much as possible about one another, including each of our advantages and disadvantages. Then we supported each other by creating an atmosphere that did not create too much pressure. And we always had to think about how we have to create the best results in order to get to the highest point possible," Mr. Nattapong Lappontaweeying concluded.