Learning
BBA Thammasat Wins ASCM Case Competition 2021 (Regional Round)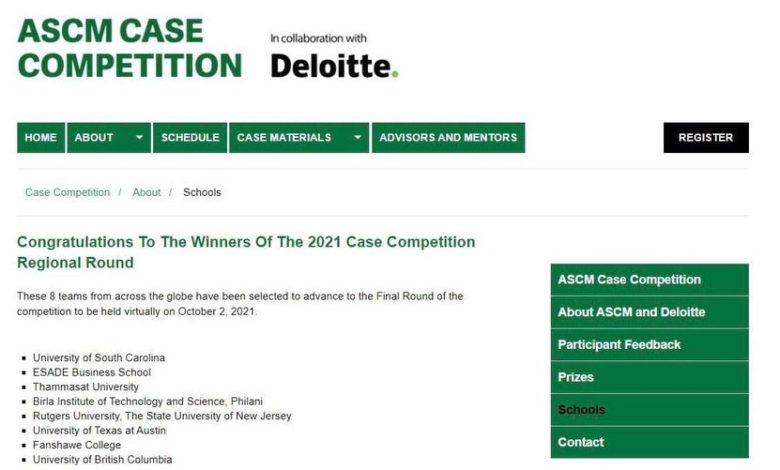 The 2021 ASCM Case Competition is provided by ASCM in collaboration with Deloitte Consulting LLP. Participating teams will present solutions to an exciting end-to-end supply chain management problem, as they compete for prize money and recognition. The case may involve distribution, logistics, sales and operations planning, inventory, and other operations management challenges.
ASCM is proud of a rich tradition of student team case competitions. The program began as a grassroots-level event, with many APICS chapters, colleges and universities taking part. The program challenged students to test the supply chain knowledge with real consulting cases curated by Deloitte. Deloitte is a world leading provider of audit and assurance, consulting, financial advisory, risk advisory, tax and related services. Over the years, the Case Competition has evolved into a flagship event touching students at universities across Africa, Asia, Europe, and both North and South America.It is an such an honor for us to participate in such event.
My team participated in this competition, which consist of Kittapas Tantisuwankul (BBA#27), Phasinee Saengthong (BBA#27), Nutrara Suangthonglang (BBA#27), and myself, Nithid Pongcharoen (BBA#28). After we enter the competition, we acknowledge that there are the qualifying that we have to record the video for the presentation and create the slide. We have the case study of MediCrystals company which comes to us about the inventory management problem as they are facing the supply shortage and fluctuated demand. We propose the recommendation to ease the tight supply chain for the company and be able to maximize the efficiency of the production facilities. Fortunately, we are qualified for the regional round.
After a very intense competition between 331 teams. There were only 64 teams in the regional round. In this round, we solved an 8-hour case about the supply chain management. Unfortunately, due to the time zone differences, we had to start the case at 7:00 am and woke up since 5:00 am to get together and crack the case. However, that did not limit our commitment and dedication to the case. We did our best to solve the inventory management problem and drew the implications from the data given. We utilized the knowledge from operations management course in this case and calculated the future demand using the formular we have learned in the class. Several days after we handed in the case, we heard the great news that we were the winner of the region which consists of 6 countries: Australia, China, Malaysia, Singapore, Thailand, and Vietnam.
None of these things would have happened if there was not the tremendous support from my team members. Also, thank you ASCM committee for holding such a wonderful event. Lastly, thank you Thammasat University for facilitating us the entire event. We are blessed with such an opportunity.