Research
Professor from Chulabhorn International College of Medicine Honored by NRCT as the National Outstanding Researcher in Chemical and Pharmaceutical Science of the Year 2021.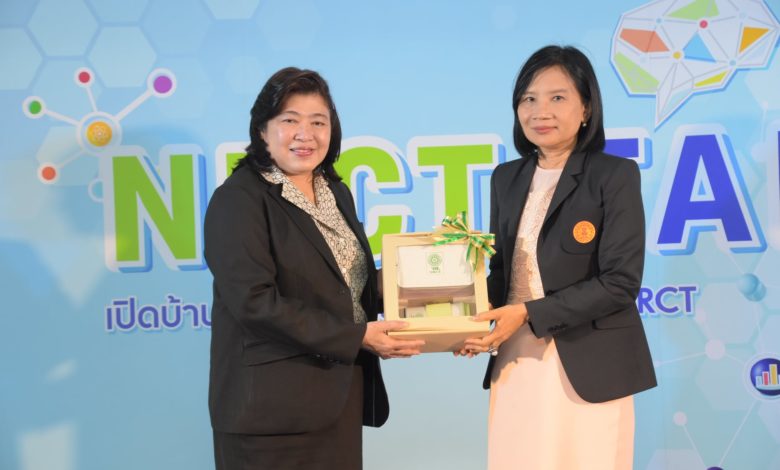 National Research Council of Thailand (NRCT), Ministry of Higher Education, Science, Research and Innovation (MHESI) held the NRCT TALK "Open House for Research & Innovation by NRCT (In-House): 3rd National Outstanding Researcher Award of the year 2021" to honor Thai researchers with outstanding contributions to Thai education and Thailand.
This activity aims to promote and encourage Thai inventors and researchers for the development of innovative idea and shared wisdom to be explored in various fields. NRCT announced the 7 winners of 2021 National Outstanding Researcher Award from 5 fields. One of them is Professor Dr. Kesara Na-Bangchang as the outstanding researcher in Chemical and Pharmaceutical Science.
Dr. Wiparat De-ong, Director of NRCT said Professor Dr. Kesara Na-Bangchang was recognized with the national outstanding researcher award by NRCT because of her consistent initiatives and devotion to research. She is one of the key contributors in promoting research and pursuing studies in the area of pharmacology of Malaria and Cholangiocarcinoma in Thailand to meet international standards and being recognized internationally. Both Thai and international researchers expressed interest, followed and adopted her works for further studies, for example, pharmacokinetic studies, studies funded by public and private research organizations for Malaria infection and Cholangiocarcinoma, including international organizations such as UNDP World Bank Special Program for Research and Training in Tropical Diseases: WHO/TDR where she was responsible as the Director. She also provided academic services which include knowledge, training, as well as audit and assessment of research projects associated with research standards to Thai and international researchers.
We believe that many people might not be familiar with the term "Pharmacology". Pharmacology is a branch of pharmaceutical sciences concerned with drug and medicated actions and drug efficacy and safety. With the pharmacological knowledge, for Thailand, as the origin and epicenter of antimalarial, the drug resistance could be controlled. However, since each patient is different, a variety of factors such as physical condition, age, gender, weight, pregnancy, underlying disease or other drug usage and genetics including race needs to be taken into account before the dosage is determined.
The National Outstanding Researcher Award recognizes Thai researchers who are dedicated to a specific subject or multiple subjects in a group of academic disciplines or interdisciplinarity of research on a regular basis and have made contributions to outstanding research with initiatives for not less than 5 years. The award emphasizes on Thai researchers with professional ethics who are well recognized and accepted in each academic discipline for their research that benefit Thailand's economics, community, society and policy which can be used as the prototype for other researchers in the future. Those who are recognized as the National Outstanding Researcher will receive the award with the certificate and the prize money at Thailand Inventor's Day 2021, which will be held from May 26-30, 2021 at BITEC, Bangkok.
Prof. Dr. Kesara is also ranked among the list of "Top 2% World's Scientists" for the year of 2020 by Stanford University, USA, awarded for her studies and contribution with various publications and reference of studies in academic journals.