Society & Sustainability
CCU Award-Winning Research and Practices drive USR and Educational Innovations with International Cities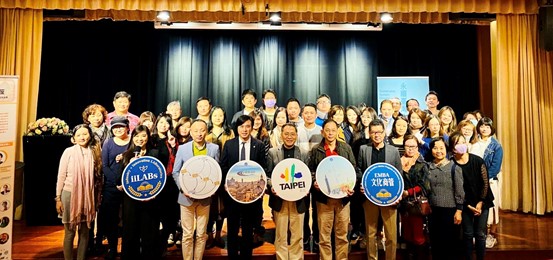 While university social responsibility (USR) and practical education innovations are prevailing among world leading universities, joint research and practices with international cities and regional developments are bridging effective innovation ecosystems with government-academia-industry collaborations.  An international GLORIA (Global Research & Industry Alliance) team including Chinese Culture University (CCU), Matera City (The 2019 European Capital of Culture), and Taipei City (The Capital of Taiwan) was initiated to conduct sustainable system development (SSD) projects for livable city, culture innovations, and SDGs.
With a series of SSD projects led by CCU Prof. Dr. Min-Ren Yan and Taipei City Government, a research paper entitled: "Open the Cultural Ecosystem Service Innovation and Social Impacts—A Case Study of Livable City and Eco-Museum in Taipei" presented in Society of Open Innovation (SOItmC) and Riga Technological University 2021 Conference has received a Best Paper Award.
This paper explains the concept of using open innovation with a city-based cultural ecosystem service that helps an international city to improve the efficiency and effectiveness of building a livable city and cultural development for social welfare. This paper proposed a sustainable system development (SSD) framework with the principles of Cultural Ecosystem Service Innovation (CESI) and case studies in Taipei City to support practical implications. Real-world cases of green infrastructure for sustainability and eco-museum cultural reforms in Taipei City has been benchmarked and analyzed with empirical data. With in-depth expert interviews, the paper demonstrates the use of CESI framework to support policy design, strategic development, public participation, and global value creation for sustainable system development. Management implications were addressed to promote multiple positive feedbacks with the government, enterprises, and the general public and jointly strive to support the development of a sustainable city.
Special thanks to the Mayor of Taipei City, Dr. Wen-Je Ko, the Deputy Mayor, Dr. Cheng-Sheng Pong and Dr. Ping-Kun Tsai, who leading the administrations of sustainable and livable city development, cultural ecosystem service innovation, eco-museum research workshop and supporting resources for this study and continuous education with the society.  Real case demonstrations and references are as follows:
https://pwdip.gov.taipei/Esdgs/