Leadership
Chitkara University Ranks Among the 'Tech-100 Higher Education Institutions of India' by APAC News Network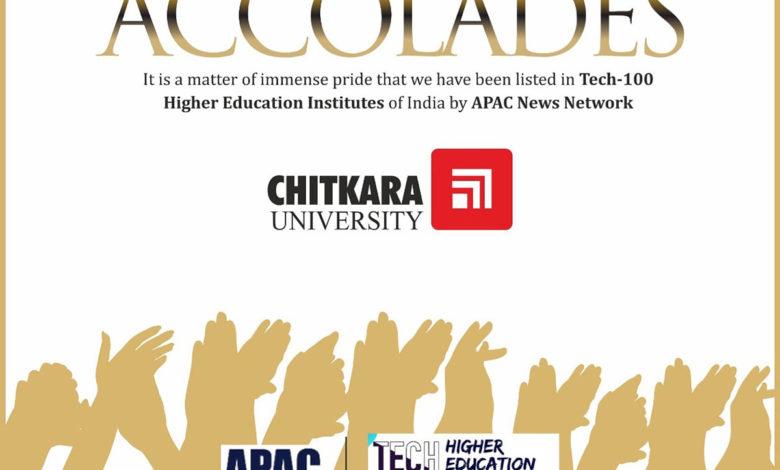 Chitkara University has been listed in 'Tech-100 Higher Education Institutes of India' by APAC News Network. Tech100 is the list of progressive higher education institutions in India that are in the forefront of technology. APAC believes that these institutes have moved with the times and embraced technology for the betterment of education. The list is made based on robust parameters designed by a panel of technology leaders and academicians. The institutions are selected for the list on the basis of a comprehensive technology framework that is designed and approved by a set of academic as well as technology leaders. This is a simple list and will have no rankings.
There are aspects that all educational institutions need to adhere to for smooth functioning. APAC set about 12 categories that an institution needs to fill out to become eligible which are: Admissions, Master Data Management, Student Finance and Aid Management, Academic Administration, Learning Management System, Examinations, Grievance Redressal, Career Services and Management, Campus Communication, Library, Infrastructure and Technology Stack. A committee chair comprising Navin Mittal, IAS, Commissioner, Collegiate and Technical Education Department, Government of Telangana and Dr Akhilesh Gupta, Advisor & Head STIP 2020 Secretariat, Department of Science and Technology, Govt of India was constituted.
The other parameters taken into account include Public and Private Partnership, Higher and Technical Education and Skill and Vocational Education. Speaking at the virtual Skill @ entrepreneurship innovation conclave organized by APAC News Network, Vijay K Banda, Senior Director, Cyber Security, Qualcomm India said, "Skills are going to be a new global currency of the future." He further added, "One may not know what kind of jobs would exist in the future as technology is changing at breakneck speed." Satyajeet Rajan, IAS, Additional Chief Secretary, Labour & Skills Department, Government of Kerala said, "Skilling was mostly confined to low key areas such as learning to type way back in the 90s." In the last decade-and-a-half, thanks to the fast-changing technological advancements, new skill-sets emerged. Universities are adapting to the changes and the need to interface with the industry is largely being felt. Dr Elangovan, Principal Secretary, Industries and Norka, Govt of Kerala says, "Teaching finance in schools and aligning courses with the industry is the need of the hour." Navin Mittal, IAS, Commissioner, Department of Collegiate & Technical Education, Govt of Telangana said, "Telangana has a good start-up ecosystem especially in IT and Knowledge industry. There are T-Hub and We-hub, the latter encourages women start-ups. We started OU Idea Labs at Osmania University that allows students, alumni, and anyone interested to be a part. There is also a concerted effort to encourager entrepreneurship in colleges."
APAC Digital News Network Pvt Ltd' is India & Asia Pacific region's emerging knowledge consultancy & community-building startup. Headquartered in Noida, the electronic city of Uttar Pradesh, they also have an overseas presence in Dubai, Singapore and Malaysia.