Learning
LCCM announces first 'Box Talk' for 2021 Mercury Prize winner Tom Gray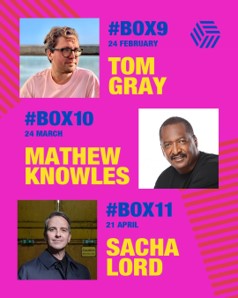 London College of Creative Media (LCCM) has announced the next three events in their Box Talks series, starting from Wednesday 24 February with Tom Gray, singer and guitarist from the Mercury Prize-winning band, Gomez.
The virtual event will see Gray, Founder of the #BrokenRecord campaign on music streaming, talk about his work behind the campaign and his career journey to date.
The following events will feature Mathew Knowles, Manager of Destiny's Child and father to Beyoncé and Solange, in March. Sacha Lord, Co-founder of The Warehouse Project and Greater Manchester's Night-Time Economy Adviser, will round out the line-up in April.
Box Talks started in 2019 as a monthly programme of talks, masterclasses and interviews, hosted from LCCM's Music Box venue. The events are free to all, streamed live via Zoom and YouTube, and aimed at those wishing to kickstart a career in the music and creative industries.
Over the past year LCCM has welcomed a variety of leading industry names for events, hosting luminary British talents such as Jacob Collier and Beverley Knight for in-depth workshops, as well as A&R panels with Dirty Hit, Warner Records and Sony/ATV. JD Donovan, Creative Industries Liaison at LCCM, said: "It's very exciting to announce such a stellar lineup for our next three Box Talks.
"We've worked hard to build a relatable and engaging brand of talks and masterclasses that directly fulfill LCCM's core objectives of connecting students and young people to industry and investment. Our recent graduate and student satisfaction scores evidence this but our work never stops, and there will be further Box Talks across this year. In the meantime, we can't wait to welcome Tom Gray, Mathew Knowles and Sacha Lord over the next few months."
LCCM is committed to promoting these learning opportunities to connect with industry experts, supporting students in launching successful careers in the creative arts. Recent LCCM grads in the past year have achieved great success, with one graduate named as a Royal Albert Hall Young Producer(s) of the Year, another joining the Ivors Academy Youth Council and one securing a deal with Chris McCourt's 7476 imprint.
The first Box Talk is on Wednesday 24 February at 7pm. Information and registration available here.
About London College of Creative Media (LCCM)
London College of Creative Media (LCCM) was founded in 2002 as a music college. Its aim is to establish a new approach to teaching music that mixes an art school environment with the best of music conservatoires and universities.
LCCM has pioneered an educational model where music students have to master both performance and production – a combination that remains vital for most professionals today. With its degrees developed and delivered by leading industry professionals, LCCM's innovative approach to specialist education prepares students for industry and employment from the moment they start at LCCM.
In the National Student Survey 2020, LCCM is ranked highest amongst contemporary music institutions with an overall student satisfaction score of 86.5%.