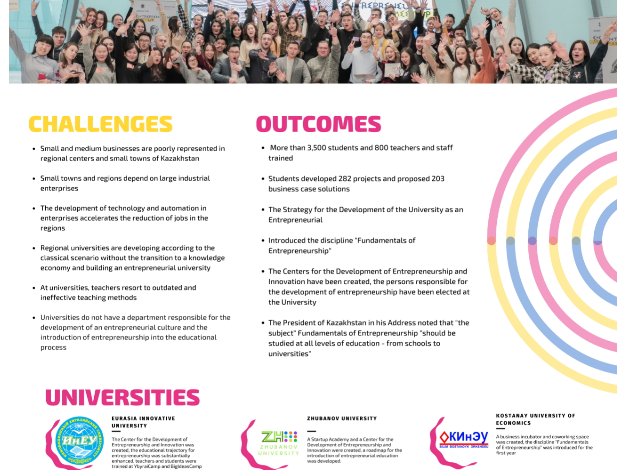 Almaty Management University (AlmaU) is an entrepreneurial socially responsible University located in the heart of Central Asian education hub.
Values integrated into Academic Program: AlmaU' academic programmes are designed to nurture the young generation as professionals with open mind and heart, who understand their responsibility and are striving to make a positive impact on the communities around them on local and international levels.  ​The University runs following core mainstreams related to global social responsibility and sustainability in education. Social values are incorporated in the academic programmes, internships and extracurricular activities. Integration of social responsibility into leadership skills and knowledge studied for students is a must. The ethical behavior is promoted on all levels of educational and social life encouraged among young people. The young people are involved into projects designed for society and community groups' needs. Following the UN Academic Impact and the UN PRME and promotion of the initiatives on campus is key to disseminate the understanding of responsibility in a broader term.  ​In the 2019-2020 academic year, the disability friendly building of AlmaU served 10 students with special needs.​
Service Learning: AlmaU continues to run the mandatory course "Service Learning" for the Bachelor degree students of all majors. It allows students to raise a sense of social responsibility towards the world around. During the course, students learn to volunteer, help the society. Science 2015, students & faculty have been working with 30+ NGO partners & implemented 100+ community service projects, 50 000+ hours of volunteering activity.​
Joint Humanitarian Entrepreneurship Summer Academy is the international summer school in the field of social entrepreneurship held in mid-Summer 2019. The Summer Academy was organized by Lingnan University (Hong Kong) together with AlmaU and Al-Farabi Kazakh National University. It consisted of an intensive educational course with researches, an overview of SDGs and how to achieve them at the local and regional level. Students also conducted field studies in Almaty city and Almaty Region, in the villages of Kaiyndy, Yntymak and Uzynagash, over two weeks guided by mentors. ​
Volunteering is the activity that is strongly supported by AlmaU, especially on the student level. It is not only incorporated into the academic content, but also conducted through the Student Relations Center and Students Volunteers club.  AlmaU has a Student Charity Club​ aimed at «Friendship, Support & Family» ​. Student Club "DOS" encourages students to help vulnerable communities – they visit people with disabilities and specialized organizations, meet with special children and communicate with them. Last year students conducted large city charity projects like Liter Flow and Never Give Up in order to raise funds for children with serious illnesses.  ​
Students annually collect clothing and food for the children from orphanages.​ Since 2008 students have raised more than 10 million KZT and held 200+ region-wide events. Thе 2020 New Year's film screening brought 300 items of clothing and 80 kg of food for more than 1000 children. Currently volunteering work at AlmaU is designed in following main directions: project "Sabaqtastıq" (in Kazakh: Continuity; social help to orphanages); environmental project "Clean world"; nursing projects "Health" (nursing at hospitals and for in-home patients) and "Help" (nursing for old people); "Knowledge" (assistance to rural pupils and youth); project "Gold Heritage" (spiritual and cultural project); project "Hope" (the legacy of the World War II participants). ​
​
The Briefing "Volunteering in Kazakhstan. 2020 – Time for Partnership" took place at the end of 2019. Participants discussed the most exciting volunteer projects of 2019, statistics and results, plans for the future development of volunteering in Kazakhstan.  ​
The university takes seriously health issues and diseases. On an ongoing basis, a game library with children with autism​
syndrome is held at the University, where students play, communicate with children so that they feel needed in the society. ​
AlmaU Center for Social Entrepreneurship supports the aspirations of people with disabilities to overcome social inequality through the acquisition of new knowledge, the development of their own business ideas and their careers. As consultant and methodological mentor, the Head of the Centre was awarded by "Altyn Zhurek 2018" national award and has already gained country-wide recognition. Additional social project of the Centre is art exhibition «The world by kids' eyes» with participation of specialized boarding schools from the Western Kazakhstan. AlmaU Center for Social Entrepreneurship is one of the main departments that runs "serve to community" projects. The Center for Social Entrepreneurship is focused on informing, supporting, attracting representatives of small business, non-governmental organizations, on the development of entrepreneurial skills. Center runs a scientific hub for discussing and resolving issues of developing a joint social venture in Kazakhstan with the participation of government agencies, NGOs, social enterprises (round tables, competitions, contests) to determine the best forms of ownership for social entrepreneurship and to develop it in Kazakhstan.   The Centre is the platform created for discussion and resolving issues of Social Entrepreneurship developing in Kazakhstan with the participation of governmental agencies, NGOs, social enterprises and others. AlmaU activities related to the promotion of social entrepreneurship in the society has been marked by the "Zhomart Zhurek" Award (in Kazakh: Generous Heart) by the Ministry of Information and Social Development of Republic of Kazakhstan in 2019. ​
​The research project "Social entrepreneurship in Kazakhstan" as a new model of sustainable social change: trends, problems and development prospects in modern Kazakhstan" funded by the Ministry of Education and Science of the Republic of Kazakhstan. This project has regional impact and involves people with disabilities including entrepreneurs, specific associations and organizations, local authorities, by AlmaU Centre of Social Entrepreneurship. ​
Тhe "Ecosystem of Students' Entrepreneurship" ​
(since 2017) is the long-term project aimed at creating platforms in the four regions of Kazakhstan for nurturing proactive and entrepreneurially fit youth, as well as, in the longer term, improving the regional business climate and developing the local economy. It is designed and led by AlmaU in collaboration with Eurasian Resources Group (a mining corporation generating 2% of Kazakhstan GDP in 2018), Association of friends of Tel-Aviv University and is carried out in the 8 Kazakhstani universities and 1 college.  ​
The project involves 600+ educators who learn about the trends of modern education, see what the world is striving for and what tomorrow brings for their graduates, and 4000+ students who have generated 617 different business ideas, 264 business cases and developed 20 startups within three years. The project involves 100 mentors and tutors, about 70 speakers and 80 jury members.  ​ The project also incorporates series of events such as seminars, webinars, meetings, round tables, as well as summer camps designed to strengthen the leadership and entrepreneurial potential of teachers and employees of Kazakhstan universities and colleges as well as the students. For instance, the participants of the Ybyrai summer camp went through an intensive four-day "reset" programme in mid-2019 with the participation of leading experts in the field of entrepreneurial education, leadership, management and business from Kazakhstan and Russia. YbyraiCamp strengthens the leadership and entrepreneurial potential of teachers and employees of Kazakhstan universities and colleges.