Partnerships
UM, KingMed Diagnostics establish joint laboratory to promote health services and science in Greater Bay Area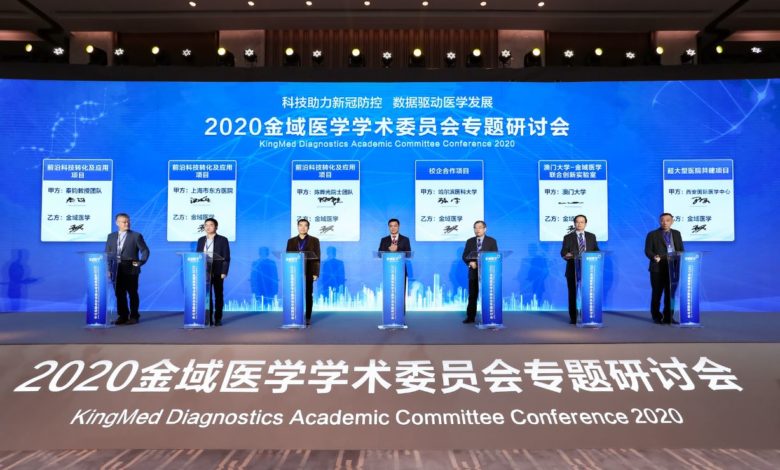 The University of Macau (UM) and Guangzhou KingMed Diagnostics Group Co, Ltd (KingMed Diagnostics) recently signed an agreement on establishing a joint laboratory of innovation with the aim of promoting industrial diversification in Macao and improving the overall quality of medical research and technology transfer in the Guangdong-Hong Kong-Macao Greater Bay Area (GBA). In line with the development strategy of the Macao SAR government and the development of the GBA, the lab will fulfill the demands for collaboration between the two parties and will take advantage of their strengths in the fields of precision and translational medicine, public health, and clinical diagnostics.
The signing ceremony was held at KingMed Diagnostics Academic Committee Conference 2020. During the event, Prof Ge Wei, vice rector of UM, and Liang Yaoming, chairman of the board of directors of KingMed Diagnostics, signed the agreement on behalf of the university and the medical company, respectively. Prof Chen Guokai, deputy dean of UM's Faculty of Health Sciences, was present at the ceremony. Zhong Nanshan, a member of the Chinese Academy of Engineering, also joined the signing ceremony. According to him, he recently visited UM and praised the university for its research results and potential in technology transfer. He expressed hope that UM and KingMed Diagnostics would strengthen collaboration and jointly promote technology transfer in the field of medical sciences.
According to UM, the establishment of the joint laboratory is meaningful to UM and KingMed Diagonstics, and will have strong implications for technological development in Guangdong and Macao. The lab will deepen collaboration between Guangdong and Macao in biomedicine and will help to develop the area into an international centre for biomedical technology and innovation and a centre for demonstrating the application of technologies in the industry. In addition, the lab will help to promote the development, incubation, and commercialisation of new technologies, strengthen collaboration between Guangdong and Macao, and boost the development of preventive medicine, precision medicine, and personalised medicine in the GBA.
Read full article at University of Macau
Photo credit: University of Macau