Research
UM develops new biomaterial that can enhance bone grafting efficacy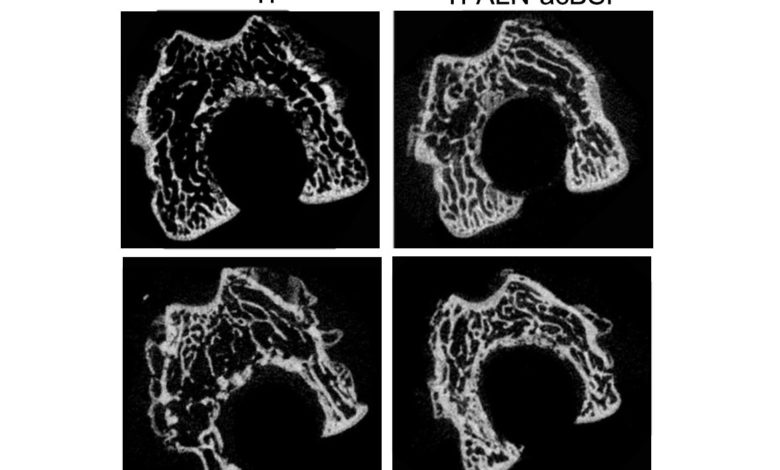 Wang Chunming, an associate professor in the Institute of Chinese Medical Sciences at the University of Macau (UM), in collaboration with Prof Dong Lei at Nanjing University and senior dental surgeon Dr Yu Na at National Dental Centre Singapore, has devised a biomaterial coating that can improve bone-to-implant integration ('osseointegration') under osteoporotic conditions, by switching on and off local inflammation in response to the healing process. With successful clinical application, this technology can initiate osseointegration more quickly in older patients for dental implantation. This study has been published in Advanced Functional Materials, a top international journal in the field of materials science.
Tooth loss is one of the most common oral conditions among older adults, which creates a pressing demand for dental implantation. Each year, millions of titanium-based devices are implanted clinically for bone and dental repair. Nevertheless, there is generally a higher prevalence of osteoporosis among older adults, and osteoporosis can lead to thinned alveolar bones and persistent inflammation, which can substantially impair osseointegration. To meet the changing needs for inflammatory niches throughout the different stages of healing, the UM team designed an innovative bio-responsive glucomannan coating chemically grafted onto the titanium surface. This coating could sequentially turn on and off local inflammation to promote tissue healing. During the early stages of implantation, the glycans specifically activate macrophages at the defect site to produce a signal that promotes bone cell maturation ('switch-on'); the gradually matured bone cells then secrete another signal to release 'sugar-coated bullets' from underneath the coating, which selectively eliminates inflammatory macrophages ('switch-off') to achieve optimal regeneration.
Prof Wang says that for decades, modulation of immune responses to medical implants has been a challenging issue for both researchers and clinical practitioners. In 2018, his team published a proof-of-concept study in Advanced Functional Materials, on the successful turning-on of immune cell activity by glycobiology signals for tissue repair; today, their latest work has gone further by achieving 'full control' – with both turning on and off of the therapeutic signals in vivo, which may provide new biochemical strategies for tissue repair under complex pathological conditions. The team will actively seek opportunities to validate this strategy through efficacy and safety studies in larger animals, in order to accelerate clinical translation.
Two UM Macao Postdoctoral Fellows, Dr Wang Zhenzhen and Dr Niu Yiming, are the co-first authors of the paper. Ms Yin Xiaoyu, a master's student at UM, and Ms Tian Xuejiao, a PhD student at Nanjing University, along with several other students, have made important contributions to this study. The study was funded by Macao Science and Technology Development Fund (file number: 080/2016/A2), UM (file number: MYRG2019-00080-ICMS), and the National Natural Science Fund of China (file number: 32001069, 32000935).
Read full article at University of Macau
Photo credit: University of Macau