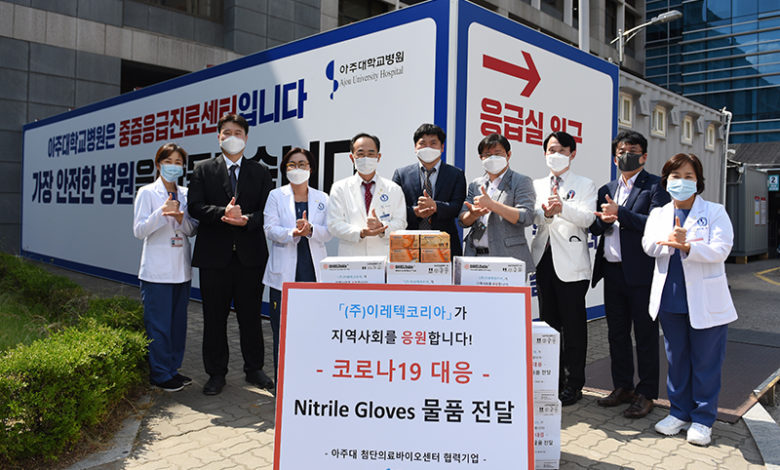 ERAE TECH, one of the "family enterprises" of Ajou University, brought 10,000 pairs of surgical-grade nitrile gloves to the COVID-19 diagnostic station at Ajou University Medical Center as a donation.
The donation was the result of a meeting between ERAE TECH CEO Lee Hyeong-seok, who is currently enrolled in the Graduate School of Clinical Pharmacy and Pharmaceutics, and Professor Kim Mi-ran, a doctor (Department of Obstetrics and Gynecology) at the medical center, who is herself a graduate of the same school.
The brief ceremony that was held before the donation was made, on June 10, featured Lee, Chairperson Han Sang-uk of the medical center, and Dean Kim Su-dong of the Graduate School of Clinical Pharmacy.
Lee explained: "We wanted to do something for our hardworking medical practitioners who are working so hard at the COVID-19 diagnostic station, and thought the best thing to do was bring something useful, like 10,000 pairs of nitrile gloves."
The Industrial Cooperation Centers (ICCs) at Ajou University were established with the mission of promoting the university's research strengths in partnership with local businesses. Faculty members and local firms participate in R&D projects on biotechnology and healthcare, smart mobility, new and renewable energy, and artificial intelligence (AI) and big data. Ajou continues to aid local businesses by providing a wide range of support, including R&D infrastructure, advice, and personnel training support.