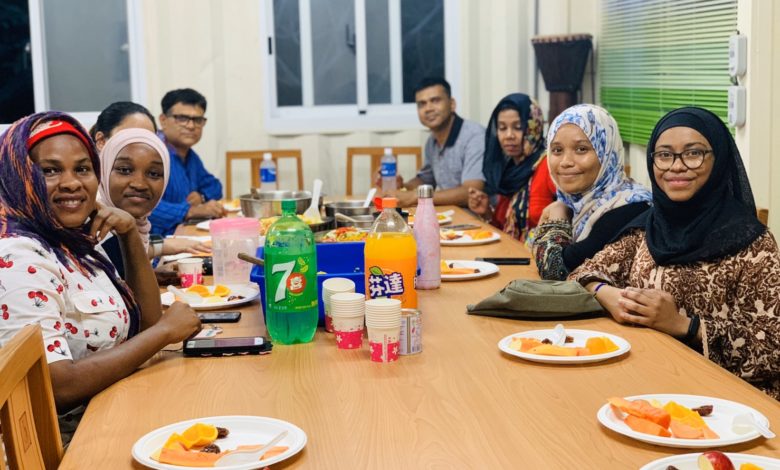 Chang Jung Christian University (CJCU) Muslim international students from Africa, Bangladesh, and Japan gathered on May 10 for their "Iftar", the evening meal in Ramadan. With globalization, there are a growing number of international students attending CJCU each year. Some of these students are Muslims.
MFM Amir Khashru, a Muslim Ph.D. student studying Business and Operations Management at the College of Management, invited the CJCU Muslim international students from Africa, Bangladesh, and Japan to the CJCU Eco-Center for the "Iftar", the meal to end the Muslims' daily Ramadan fast at sunset, to strengthen students' relationships by getting to know each other further.
Amir is the former General Manager of the Yunus Center in Bangladesh. Currently, he is also one of CJCU's part-time instructors. Muslims, explained Amir, are forbidden to consume food or drink water during the day time during the Ramadan. They must closely conform to the norms and pray.
After sunset, it is the time for families to get together and have the Iftar meal. May 10th happened to be the Mother's Day in many countries while Muslim believe every single day is Mother's and Father's day, said Amir. Although, there are no special celebrations for Muslim on that day, they can also take the opportunity to show their appreciation for their parents' teaching and support while having the Iftar meal at CJCU.
CJCU is founded as a Christian university, but we respect different religions and beliefs on our campus. Even though the number of Muslim students at CJCU is not big so far, CJCU is actively creating a culturally inclusive environment. The goal is to let every CJCU student with different backgrounds from all over the world be able to promote their cultures, strengthen their beliefs, and deal with their daily needs while their studies and research is in progress.