Learning
Thammasat students won of the Estee Lauder Digital Bootcamp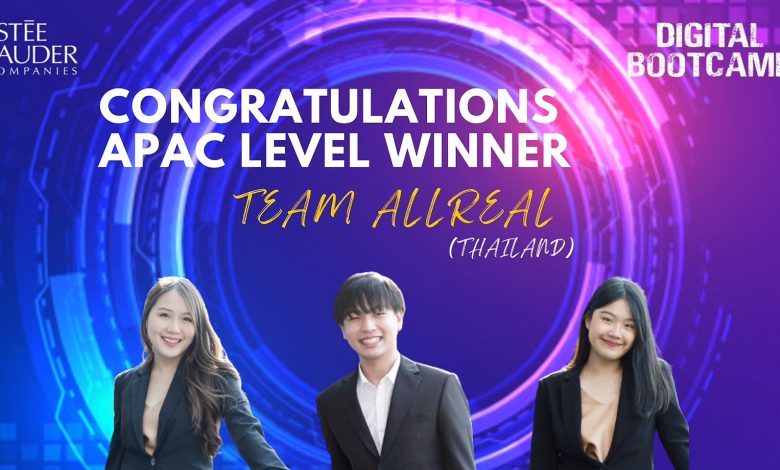 'Allreal Team', Faculty of Commerce and Accountancy International Program (BBA) consisting of Polwat Pornbenjaphakkul, 2nd year student majoring in Finance, Sirada Putkaew, 3rd year student and Suchada Charoenkittithum, 3rd year student majoring in Finance won first place in the Estee Lauder Digital Bootcamp in APAC competition about Digital Marketing, Online and E-Commerce.
Polawat Pornbenjaphakkul revealed that we first knew about the Estee Lauder Digital Bootcamp in APAC competition from our own faculty which when we saw the annoucement, we were very interested causing all 3 of us to form a team together to compete this time. Then, when we saw that the theme of the competition is 'inclusivity', we tried to come up with a name that could demonstrates the idea of inclusivity, so we chose the name 'Allreal', which is made up of 2 words: All and Real. We want to make everyone (All people) to be able to use our products easily and must be able to use them for (Real), which is in line with the theme of 'inclusivity', which is allowing every group of people to truly be a part of Estee Lauder.
Sirada Putkaew further explained about the proposed business plan that after we discovered the problem of choosing cosmetics including make-up faced by the group of people with colour blindness. This is in view of the fact that they are not being able to distinguish colours, especially red which is a primary color in almost all kinds of cosmetics. Therefore, we initiate a new product to raise awareness on color blindness and create an easy and convenient make-up experience for the target group.
Our collection is called "Inclusive Collection", which consists of 3 products: 'Iris Palette', an eye shadow palette that is arranged to be easy for mix & match and is designed to have different textures for people with colour blindness to see the difference between the colors including using simple names. 'Optic Lipstick', a lipstick which are clearly labeled with names, shades and textures for easy selection, and finally, 'Oculus blush', a blush with reduced pigmentation. This makes it possible to gradually increase the intensity level perfectly and another important thing is packaging that wins the hearts of the target audience. We have added an eye symbol to all of the products in our 'Inclusive Collection' to reflect the brand's color-friendly nature, as well as design cute messages that are only read off and seen by color blind people.
"The reason I think we won the prize were that we thoroughly understand the problems and needs of the target group which is people with colour blindness. We tried to study and develop the make-up experience particularly for these people. Eventually, we were able to initiate a product that truly meets the needs of colour blind people. Our ideas are completely new and that no one has ever done before, and most importantly, it is the idea we can actually implement, making the directors impressed with the work and we are very happy and proud to receive the first prize as a representative of Thailand. Additionally, we had received the opportunity to do an internship with Estee Lauder Companies. Lastly, I would like to sincerely thank the team of mentors from Mac for always providing us good advice." Suchada Charoenkittitham concluded.