Partnerships
Thammasat joins USAID, sending interns to Southeast Asia Energy Sector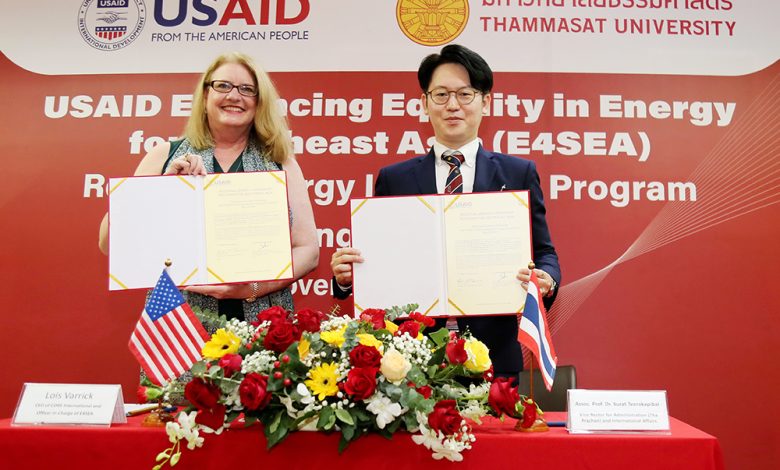 Thammasat University signed a Memorandum of Understanding (MOU) with the United States Agency for International Development (USAID) on Enhancing Equality in Energy for Southeast Asia (E4SEA) program that aims to promote and support gender equality. This is especially true in the energy sector, which consists of mostly male workers and executives.
For the project, Thammasat will serve as the Regional Energy Internship Coordinator for Southeast Asia under the E4SEA program, with consulting firm, CORE International as the operator by encouraging more "women workforces" and LGBTQ+ to enter their career in the energy sector in Southeast Asia.
However, there will be a Regional Energy Internship Program between partner universities consisting of Thailand, Indonesia, Vietnam and the Philippines, together with the energy industry. This is considered the core of the infrastructure of every country with a rapidly growing "job market", and ever increasing demand for skilled workers. Initially, the project will run for 3 years (2020-2023).
Assoc. Prof. Dr. Surat Teerakaphiban, Vice President for Administration and International Affairs, Thammasat University, Tha Prachan Campus said that the energy sector is one of the industries that have quite a lot of problems with gender equality. Therefore, the cooperation between Thammasat and E4SEA is expected to help the energy industry achieve greater gender equality, both supporting in the important aspect which is knowledge and to try out the internship in the actual workplace.
Thammasat University has been chosen to host the establishment of a regional internship coordination center. We will accept students from all universities in ASEAN on an exchange program with leading energy companies, and as well provide funding support for both living allowance and traveling abroad, including accommodation for students. The key feature that makes the difference is focusing on gender equality. Gender bias will not be included as part of the criteria for consideration.
"In the United States, this is considered very serious. In which if looking at many research, we will find studies showing that when comparing companies with similar businesses, however groups that focus on gender equality will have better performance compared to other groups that do not pay attention to this issue, Assoc. Prof. Dr. Surat concluded.