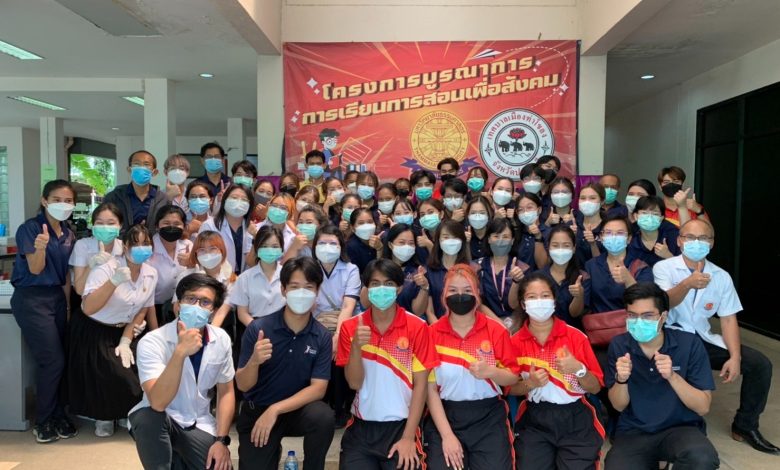 Assoc. Prof. Dr. Phaiwan Satthanon, Dean of the Faculty of Allied Health Sciences, Thammasat University revealed that currently, personnel in the health profession are not limited to a career in the hospital only, as nowadays 'healthcare' is a trend both in Thai society and globally, especially after the COVID-19 crisis. The business sector agrees that the opportunity of Thailand is wellness tourism, including the business of providing medical wellness services at the cost of Thailand's treasure, both resources, potential, travel, and most importantly, personnel potential and health service provision including national policies that promote such businesses. This leads to the growth of opportunities for healthcare professionals to become entrepreneurs or business owner from small to large by their own or even perform duties within government or private organizations that will expand to accommodate the increasing demand for health services.
In addition, Thailand has now entered an aging society while, the value of having children of the new generation is decreasing. This reflects that in the near future, businesses related to health services will grow exponentially. An obvious and growing example is the emergence of new private sector businesses that support health systems and government services, both health promotion and disease prevention, including services that cover the physical rehabilitation of patients. For example, the opening of a medical technical laboratory, wellness center of sports science, elderly care centers or patients with chronic illnesses, and quality of life care for terminally ill patients and their families that focus on reducing physical, mental, social and spiritual suffering such as palliative care centers, etc.
Moreover, in modern times, especially when the communication system, public relations and social media can reach large groups of people without limits. The provision of health services is therefore not limited to a place or that required a complex system. On the other hand, the new generation sees opportunities to build careers and health businesses online, such as giving advice, or as a health consultant or exercise therefore, having a background in health sciences will be an advantage in the future.
Dean of the Faculty of Allied Health Sciences said that the Faculty of Allied Health Sciences has always followed the trend of society and the world including cooperation with both the government and private business sectors. Therefore, we can see the tendency of increasing health demands, whether it is entering an aging society in many countries around the world, development of medical genomics, precision medicine and personalized medicine, including the promotion and care of health at early stage. These visions are considered to increase career opportunities for graduates from each program of the Faculty of Allied Health Sciences.
Prof. Dr. Phaiwan went on to say that the Faculty of Allied Health Sciences curriculum is developed based on meeting the needs of Thai society as well as adapting to the current and future world trends. This will allow graduates who complete each program to have a wide range of career options in order to support the needs of both the government and business sectors, and especially the current direction that is more open and no longer limited only to working as a medical personnel in the public sector.
Faculty of Allied Health Sciences, Thammasat University is strong in the diversity of its undergraduate programs, which include six areas: medical technology, physiotherapy, sport and exercise science, sports management, sports coaching, and radiological as well as postgraduate programs with a focus on cutting-edge research. In addition, there are activities both within and outside the curriculum through collaboration between government and private agencies, both domestically and internationally. We as well have a learning platform for real practice through the Health Service Center of the Faculty of Allied Health Sciences which has conducted activities in both business forms to earn income and forms of corporate social responsibility activities, thus combining both the ability to manage business along with having a public mind that works for society as well.
"We foster the skills needed today that are different from the past. We try to give our students choices and to obtain a variety of skills, including important soft skills, be ready and able to seize opportunities that arise, thus making our curriculum strong and that graduates are ready to keep up with current and future changes," stated the Dean of the Faculty of Allied Health Sciences.