Learning
University Canada West to host Fulbright Canada Research Chair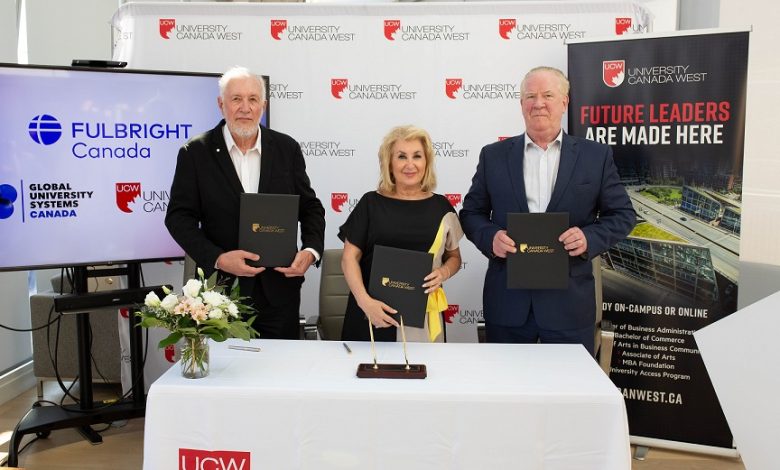 Vancouver, BC – University Canada West (UCW), a Vancouver-based institution with a diversified student body representing over 110 countries, is thrilled to announce its partnership with Fulbright Canada, the leader in public diplomacy and academic exchange, establishing a Fulbright Canada Research Chair at UCW.
The University will host a Fulbright Canada Research Chair, a US scholar, who will carry out research, offer guest lectures, collaborate with colleagues, and generally participate in the UCW community. Through this agreement UCW and Fulbright aim to enhance the mutual understanding between the people of Canada and the people of the United States of America by providing support to outstanding individuals.
"The Fulbright program is the gold standard for academic exchange scholarships," said UCW President Sheldon Levy. "Its mission is to promote reason, compassion, and international peace and friendship. These values all lie at the core of UCW's mission. We are honoured to join the Fulbright family of institutions and look forward to hosting our inaugural Fulbright Canada Research Chair."
During their residency, the Fulbright Canada Research Chair, will engage with UCW faculty and students as well as with the broader Vancouver population. By participating in activities like research design, project collaboration, and student mentorship, the Fulbright Chair will contribute to the UCW academic community while continuing to advance the Fulbright exchange goals of greater inclusion and diversity.
"Fulbright Canada is pleased to partner with University Canada West, a relatively new diverse and innovative post-secondary institution, as they continue to grow, support more students, and engage with the community," said Michael Hawes, President and CEO at Fulbright Canada. "This new research chair will part of the university's ongoing commitment to enhancing its research footprint."
Inaugurated in 1946 by Senator J. William Fulbright, it quickly became the flagship public diplomacy initiative of the US government. The program operates in 160 countries and provides awards to more than 8,000 outstanding students and scholars every year. Worldwide, Fulbright alumni have achieved notable distinction and have been widely recognized as champions of peace, justice, and prosperity.
UCW is delighted to be joining the ranks of the most prestigious Canadian and American universities in hosting a Fulbright Canada Research Chair.
"UCW's partnership with Fulbright Canada marks a significant milestone for our institution and the greater GUS Canada ecosystem," said Cyndi McLeod, CEO, Global University Systems (GUS) Canada and Chair of the Board of Governors at University Canada West. "This partnership will not only enhance UCW's capacity for research but will also provide invaluable opportunities for our faculty and students to engage with exceptional scholars from the United States. We look forward to the positive impact this collaboration will have on GUS Canada's broad academic community."