Learning
Thammasat Students won the Business Analysis and Planning Championship from the HSBC Thailand Business Case Competition 2022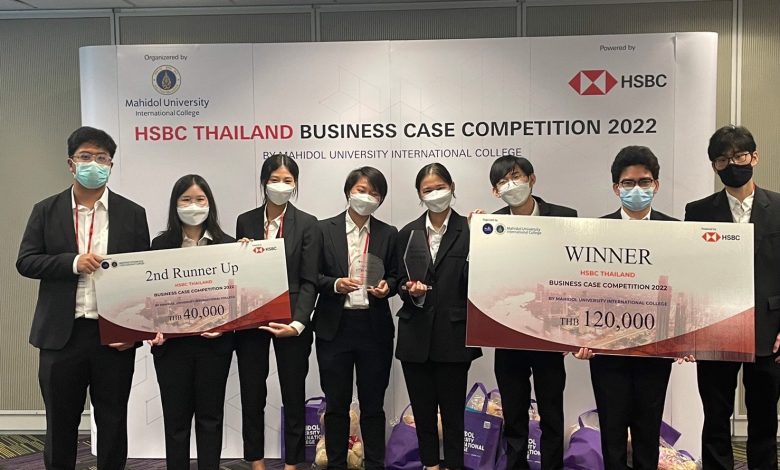 "Stonk Team", a team of students from the Faculty of Economics (International Program), Thammasat University, consisting of Mr. Bannasorn Euerchitanantakul, first year student, Ms. Porju Aia, second year student, Mr. Sawannorrabordee San, second year student, and Mr. Chanpanya Jai, second year student were selected as the winning teams in the ultimate business analysis and planning contest or HSBC Thailand Business Case Competition 2022. The team could win a cash prize of 120,000 Thai baht and a plaque, and will be representing Thailand to participate in the international competition in the HSBC/HKU Asia Pacific Business Case Competition.
Mr. Bannasorn Euerchitanantakul revealed that this competition brings knowledge and new experiences that have never been acquired anywhere else. Team members worked together to study the different companies' marketing plans and issues, then work separately on each section, such as overview, strategies, results analysis, and conclusions.
Mr. Bannasorn added that the business plan presented in this competition stem from trade problems of the United States and China. Therefore, our team's plan is to relocate some of Foxconn's production sites from China to Vietnam for manufacturing and ship to the United States. Our team proposes to maintain majority of the production in China as the workers have expertise from working for over a long period of time and it is as well considered a big market, and with our team quick and thorough answering to the judges' questions, we therefore obtained the victory this time.
"The fact that our team won the 1st place award from the HSBC Thailand Business Case Competition 2022, when we first knewed the results of the competition, I have to honestly say that our team was very shocked and did not expect to receive this award. As the teams that competed with us are all very talented and highly capable. They are all formidable competitors. The next feeling of the team was therefore very happy because we have defeated ourselves. Plus, all the efforts that our team have put together are meaningful, and because our team will be representing Thailand to compete on the global stage. Our team is practicing good presentation methods and developing strategies for solving business problems, along with receiving guidance from seniors and professor from BE case club to ensure the achievement as our team expected," concluded Mr. Bannasorn.