Partnerships
NUS Law partners with Oxford Intellectual Property Research Centre to boost research
(From left) Professor Wayne Courtney, Vice Dean (Academic Affairs) at NUS Law, Professor Dev Gangjee, Director of Oxford Intellectual Property Research Centre (OIPRC) and Professor David Tan, Co-Director of TRAIL were present at Prof Gangee's visit to NUS Law in August 2022, where he delivered the Lionel A Sheridan Professorial Lecture. Photo credit: NUS Law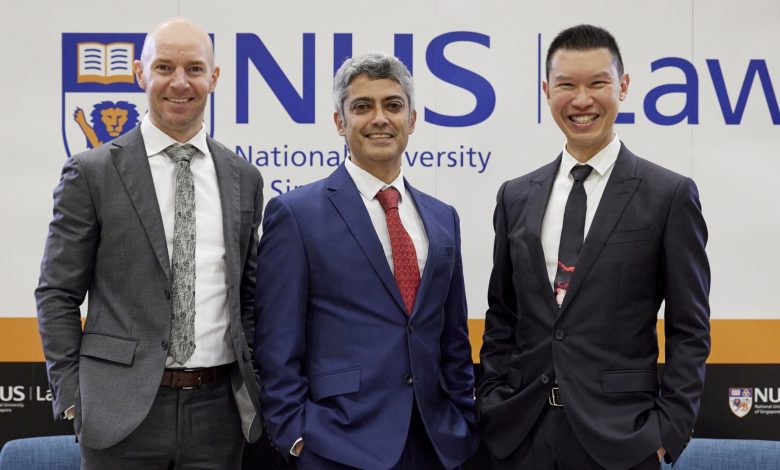 A Memorandum of Understanding (MOU) has been signed between the Centre for Technology, Robotics, Artificial Intelligence and the Law (TRAIL) at the NUS Faculty of Law (NUS Law), and the Oxford Intellectual Property Research Centre (OIPRC) to advance the academic missions of the centres in the research of national, international, transnational and comparative law relating to technology, robotics and artificial intelligence.
Dean of NUS Law, Professor Simon Chesterman, said, "NUS Law is delighted to formalise a collaborative relationship between TRAIL and OIPRC this year. Professors Dev Gangjee and Robert Burrell have previously taught intensive modules in our LLM (IP & Technology Law) programme, and we look forward to welcoming more teaching visits and embarking on new research projects with OIPRC."
"Dev and Robert are presently working with Professor David Tan, co-director of TRAIL, on a fashion and intellectual property book that will be published by Cambridge University Press," he added.
Commencing on 1 December 2022, the three-year collaboration between TRAIL and OIPRC will also further promote research activities involving academics, practitioners and policymakers, and encourage early career researchers in their relevant fields.
TRAIL presently has similar MOUs with the Intellectual Property Research Institute of Australia and Centre for Media & Communications Law at Melbourne Law School and the Law & Technology Centre at University of Hong Kong.
To read more : NUS News