Partnerships
'Thammasat Digital Skill Space', a course to shape the 'investors' of the future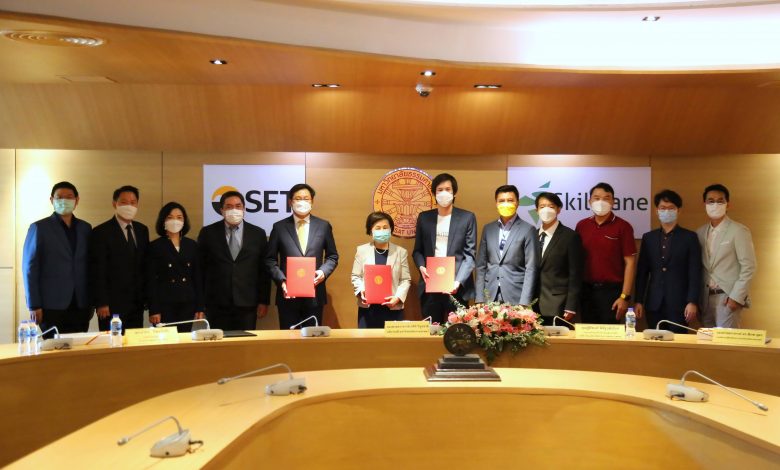 Thammasat University in collaboration with the Stock Exchange of Thailand and SkillLane Education Company Limited has launched the "Thammasat Digital Skill Space" project which is a development of a comprehensive investment learning course. Students will obtain a deep understanding of the capital market ecosystem and be trained in sustainable investment skills amid the changing and uncertainty of the future world. This project will provide opportunities for Thammasat students to learn, collect and transfer credits or can be counted as elective courses or free elective courses according to the course requirements. In the future, there will be opportunities for students of all institutions, high school students as well as those who are interested in to attend.
Assoc. Prof. Gasinee Witoonchart, Rector of Thammasat University, said that the rapid and drastic changes in the modern world have caused the role of universities and educational institutions to change accordingly. The World Economic Forum predicts that within the next 5 years around the world, as many as 85 million jobs will be lost, while 97 million new jobs will be occured. However, there will be a lot of unemployed persons, while many jobs will not be done by anyone. As these people do not have the skills to do new jobs, universities or educational institutions therefore need to rethink on how to respond to this question raised.
Assoc. Prof. Dr. Phipop Udon, Vice Rector for Academic Affairs, Thammasat University said that within the Thammasat Digital Skill Space project, there will be an intensive development of investment learning courses, starting from an online course of the Stock Exchange of Thailand (SET e-Learning) that provides knowledge from basic to advanced knowledge such as financial planning, investment in stocks, derivatives, mutual funds, bonds, etc. Thammasat University as a leading educational institution with outstanding business school accredited by three global accreditation institutions in business administration (Triple Crown) will redesign such knowledge set into "courses" that are in line with today's changes, while SkillLane as an online education experts will join forces to develop a platform that makes learning accessible to everyone.
Dr.Pakorn Pitathawatchai, Director and Manager, the Stock Exchange of Thailand said that the Stock Exchange of Thailand aims to develop the capital market to benefit all sectors. One of the key missions that has been carried out continuously is to promote financial literacy, especially among students. The Stock Exchange of Thailand has continuously worked with universities to disseminate knowledge with body of knowledge and media that the Stock Exchange of Thailand has developed which can be used as a tool for further development of courses systematically in the university.
Mr. Thitipong Phisitwuthinan, Chief Executive Officer and Co-Founder of SkillLane said, "In the present, technology has made it easier, faster and better for people to learn, which is in line with today's behavior. From our direct experience in developing online learning platform for many leading organizations, including having previously collaborated with Thammasat University in TUXSA Project, an online master's degree programs that has been successfully operated. This has proven that our technology provides people with unrestricted access to quality education in terms of time and place."
However, the courses that will be offered online are: 1. TU201: Financial Literacy for Individuals 2. TU202: Complete Investment and 3. TU: 301: Investment in the Stock Market