Learning
The works of Thammasat students draw "BLOCKCHAIN" to check the transparency of voting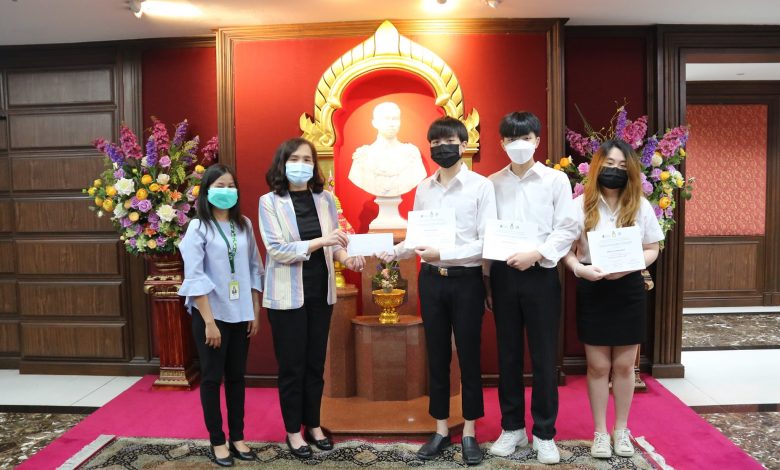 Thammasat University students, the Pro-Tech team consists of Mr. Teeradon Pakalak, a 4th-year student from Sirindhorn International Institute of Technology (SIIT). Ms. Sirintra Ngamviriyapong, a 4th-year student from the Faculty of Journalism and Mass Communication, Mr. Nattapong Wongthaveethong, a 4th-year student from the Faculty of Political Science, and Mr. Akkarachai Jintanakarn, a 2nd-year student from the Faculty of Liberal Arts, was award-winning with a technology certificate from the Hackathon Competition: Smart Voter Application (Application for quality voting) organized by King Prajadhipok's Institute, with Assoc. Prof. Dr. Orathai Kokphon, Deputy Secretary-General of King Prajadhipok's Institute to present the award and congratulate the youngster's Student at Thammasat University.
Mr. Teeradon Paklak said that the Hackathon: Smart Voter Application is organized to design and create voting applications by using innovations to encourage and assist voters in making decisions about the use of their own voices, facilitating and supporting voters' access to decision-making information and further develop the body of knowledge in democratic innovation including creating public participation to reach all target groups.
Mr. Nattapong Wongthaveethong added that together, we brainstormed to create this Smart Vote app, our app is transparent and accurate as it is the first voting app that uses the Blockchain system to help verify the transparency of the voting system, including checking the identity of the people who have the right to vote against corruption or omissions. We are more advanced than other applications with the community system for posting topics and issues that require additional information or comments. This is a space to gather experts and people involved in the issue to discuss and share ideas. On top of that, data is also processed through a CIPP evaluation tool, indicating that our app is newer and more reliable than others with interesting technology and promising ideas to develop an applicable electoral system for our country.
Miss Sirintra Ngamviriyapong revealed that in the future, if we have the opportunity to develop and extend innovations from this idea further, we would like to further our work by collaborating with King Prajadhipok's Institute to start implementing our innovations on a small scale first, such as student council elections. Then, in the future, we expect that this application will be able to extend to the national and international level to address the issue of the electoral systems that are not able to reflect the needs of people, for example, we want to create a community to provide a way to safely and transparently reflect people's needs that can be monitored more efficiently.
"We are very proud to know that we have won this competition because it is the first-time championship for all of our team members and that it is regarded as an important initial step in proving our abilities which motivates us to work harder than ever. This competition has helped us bring out a lot of our potential. We learned a lot from the mentors and that they helped us develop and expose ourselves to the real world of work. And finally, the friendship that arises after the victory of the competition makes us closer, the relationship developed that can't be found anywhere else," concluded Mr. Akarachai Jintanakarn.