Partnerships
Thammasat University joins network partners to develop digital resilience in youth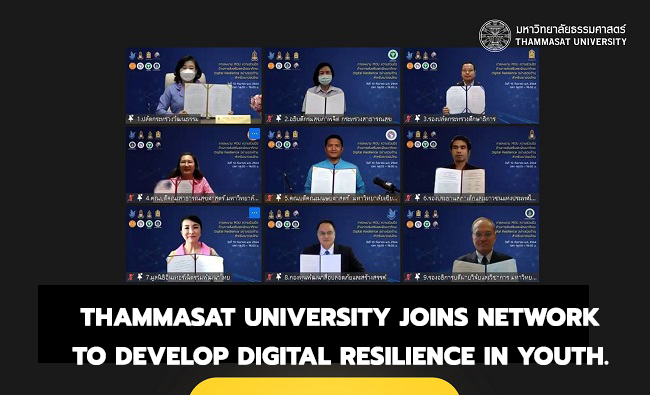 Faculty of Public Health on behalf of Thammasat University signed a cooperation agreement on the promotion and development of comprehensive Digital Resilience for Thai youth under the "Vaccination Program for Digital Resilience and Cyberbullying Prevention for high school students in 5 regions in Thailand" on September 10, 2021 in order to raise awareness of online threats among youth, teachers and parents. This project encouraged Digital Resilience presented through Creative Media in which Digital Resilience assessment tools for youth have been developed, youth has been encouraged to participate in the development of creative media to promote Digital Resilience as well as network and integrated collaborative guidelines to promote Digital Resilience and complaint channels for young people who face online dangers.
The objective of cooperation between media funds and network partners will drive operation on cyberbullying solution as well as digital resilience to promote a safe and creative media ecosystem.
Assoc.Prof. Dr. Sasitorn Taptagaporn, Dean of the Faculty of Public Health, Thammasat University said that Thammasat University has its own outstanding identity as a model of democracy, anti-violence and anti-sexual harassment. Thammasat University and the Faculty of Public Health focus on issues of harassment or violence which teenagers face online, especially those that affect teenager's health issues. Therefore, Thammasat University and the Faculty of Public Health are committed to preventing, improving and enhancing the health of teenagers who spend more time online. This is the work we have already worked on and will keep doing it.
This cooperation agreement is considered an important law that brings the cyber ​​resilience as a drive and encourage the Faculty of Public Health's teachers and researchers to integrate the concept of cyber ​​resilience with teaching and learning approach and in-depth research on innovative health promotion. In addition, the Faculty of Public Health will act as a key player to communicate, promote and persuade Thammasat community including other faculties so that they can participate in this project.
This signing ceremony involves 8 organizations: the Ministry of Culture, Department of Mental Health, Ministry of Public Health, Ministry of Education, Thammasat University, Chiang Mai University, the Council of Children and Youth of Thailand, and the Internet Foundation for the Development of Thailand and the Thai Media Fund together with the launch of comprehensive online platform developed in the project, the lectures on roles and responsibilities and the next steps of operation on Cyberbullying and Digital Resilience by representatives from 9 organizations and a special lecture on "How to build cyber resilience for Thai children".
Let's learn how to build cyber resilience by yourself through – https://manudsocial.insidethesandbox.studio
Watch the replay of event through – https://www.facebook.com/MUSHFanpage/videos/283467109894012