Learning
Thammasat won the 1st runner-up award in the CRAFT IDEA Brings Online Community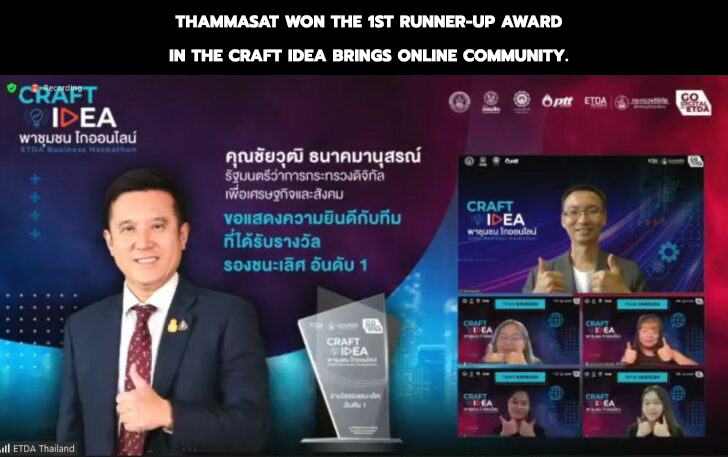 Thammasat University won the first runner-up with a prize money of 50,000 baht, a plaque and certificate from the ETDA Business Hackathon "CRAFT IDEA Brings Online Community" organized by the Electronic Transactions Development Agency or ETDA, Ministry of Digital Economy and Society. This is a competition that allows 10 teams of young generation battle with extensive ideas to find the Best Ecommerce Business Plan Model for Community.
Mr. Chaiwut Thanakamanusorn, Minister of Digital Economy and Society (DES), said that the "Craft Idea Brings Online Community" organized by ETDA is not only an activity that seeks the best and the most outstanding business plan models, but also the start of expansion in driving a business operation for the community and all groups of people that is practical to enhance the overall economy of Thailand. Simultaneously, it increases the competitiveness because based on the results of the competitiveness ranking from the International Institute for Management Development (IMD) showed that competent and skillful "people" are an important factor in building the national competitiveness. At the same time, according to the 2020 IMD World Digital Competitiveness Ranking, Thailand was ranked 39th in the world, which improved 1 rank from 2019. Many areas still need to be improved, such as training, education. adaptive attitude and business agility, etc. Therefore, the development of digital manpower, business promotion including promotion of the application of technology and information must be urgently promoted in order to improve the competitiveness ranking of Thailand.
While Mr. Chaichana Mitrpan, Director of ETDA, said that the ETDA Business Hackathon "CRAFT IDEA Brings Online Community" is an activity that extends from the community digital coach project that ETDA has been working on to develop e-commerce skills for students from various universities across Thailand to enable them to be a coach and pass on knowledge to their family members and people in their communities.