Partnerships
Thammasat University signed a research license agreement with ANTITOXIN GMBH, Germany.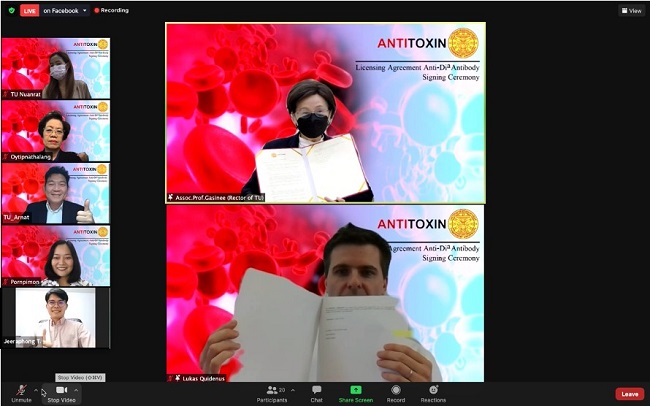 Assoc.Prof. Gasinee Witoonchart, Rector of Thammasat University presided over the signing ceremony of the research license agreement for "scFv Monoclonal antibody specific to the Di a blood group antigen generated by phage display technology and Anti- Di(a) Antibody method" to ANTITOXIN GmbH from Germany.
Lukas Quidenus, CEO of ANTITOXIN GmbH founded in 1966, is a company specializing in blood grouping for immunology. Mr. Lukas has shown interest in the research of Thammasat University that is compatible with the blood results of Thai and Asian population which is different from European population.
In the inspection process through this research, blood transfusion will therefore ensure the recipient receive more compatible blood and helps reduce risks and it is safer. This collaboration with ANTITOXIN GmbH will enable a research team led by Prof.Maj.Gen.Dr.Oythip Nathalang and Asst.Prof.Dr. Jeerapong Thanongsaksrikul, Lecturer of Biomedicine Program, Faculty of Allied Health Sciences, to expand research results for commercial development.
This collaboration is considered the development of deep tech in biomolecular science of Thammasat University for launching market internationally which allows the development of public health and the health of global population in the future.