Learning
UCSI University celebrates 33rd and 34th convocation ceremony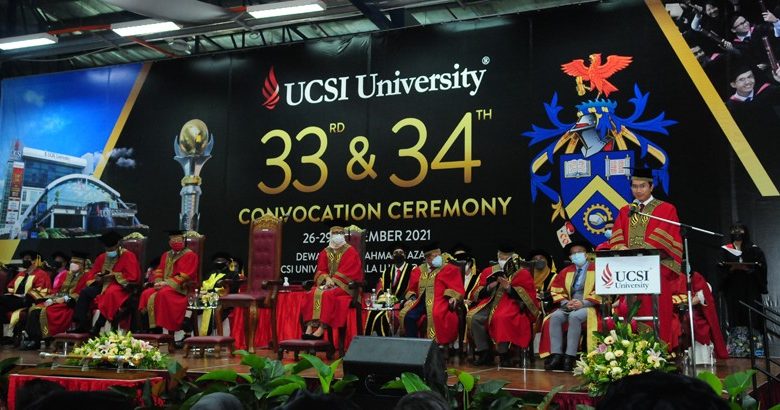 UCSI University today kicked off its 33rd and 34th convocation ceremony at its campus here.
Because of the pandemic and to maintain physical distancing at all times, the 33rd convocation ceremony had to be merged with the 34th ceremony, and will be held over six sessions until Monday.
A total of 7,011 students will be collecting their scroll beginning today. Since both Classes were combined, there would be two Pro-Chancellor gold medallists, and two valedictorians.
The Class of 2020 gold medallist and valedictorian are Michelle Chang of the Mass Communication major Yap Jane Yee who studied Bachelor of Chemical Engineering. Meanwhile, the Class of 2021 gold medallist and valedictorian are Tay Chee Sin who scored distinction for Doctor of Medicine, and Alton Wong of the Bachelor of Contemporary Music (Hons).
"Congratulations to all of you on your big day. Graduating is a significant milestone in life. And graduating, in the middle of a public health crisis, makes things more memorable.
"The past two years have been difficult but you adapted, stayed the course and overcame the obstacles that came your way. All of us at UCSI University could not be prouder of you," UCSI University Vice-Chancellor Professor Datuk Dr Siti Hamisah Tapsir said.
A leading private university
The story of UCSI revolves around its students' success.
UCSI is ranked 347 in the world, making it among the top 350 universities among the world's universities. Its students are annually selected to advance high-impact research at top universities such as Harvard, Imperial College, and University of Queensland, to name a few.
Their performance at workplace speaks volumes on what they have learnt from the Praxis University. As today, the UCSI has over 4,600 global companies that provide structured internship programmes and job opportunities to its students.
In a recent survey by the Higher Education Ministry, 84 of UCSI's 87 programmes in the exercise received a 100% employability score. This indicates that UCSI's graduates highly marketable and are much sought after.
UCSI celebrates the diversity of its student composition – a tradition stemmed over 30 years. Students from over 110 countries have studied at UCSI, making it a vibrant melting pot of culture and diversity.
Exposure, network and adaptability are some of the elements of success for any graduate today and UCSI is grateful for the thriving environment created by all its students from all over the world.
New Expansion
Built on a 40 acres' site, UCSI University's Springhill (Port Dickson) campus is located adjacent with UCSI Hospital. The campus is designed to be a leading praxis centre of education, especially in the field of medicine and health sciences.
Meanwhile, the KL campus is earmarked to expand its facilities to serve student better. Soon, the campus would be able to house 20,000 students.