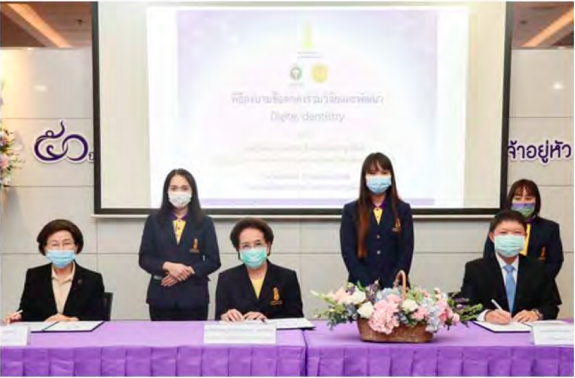 Digital for Dentistry is the latest collaboration between Thammasat University and the Dental Innovation Foundation under Royal Patronage.
Assoc. Prof. Gasinee Witoonchart, Rector of Thammasat University; Professor (Adjunct) Dame Petchara Techakumpuch, Chairman of the Dental Innovation Foundation under Royal Patronage; and Dr. Suwannachai Wattanayingcharoenchai, Director-General of the Department of Health, jointly signed a memorandum of understanding (MOU) for "DIGITAL FOR DENTISTRY" research and development to enhance dentistry services through digital technologies at the Dental Innovation Foundation.
This collaboration is an agreement to engage in joint research and development in Digital for Dentistry to create innovations that will lead to benefits in diagnoses, prevention, monitoring, and treatment of illnesses in the public.
The three agencies will collaborate in research and development in areas concerning the nation's oral health, and this will occur in the form of shared databases, improvements in education, and support in health service provision through adoption of digital technology to allow the public seeking services across the nation to have extensive and effective access to oral health services and highly competent service providers, including promotion in prevention, diagnoses, treatment, and rehabilitation that occur correctly and precisely through use of technology.
After trials and tests through research and development, all three agencies will deliver services to the Ministry of Public Health, which is responsible for caring for the country's entire population, and policy agencies such that they can apply data in analysis to improve their systems.