Learning
Students of Thammasat University's School of Science and Technology Won the 1st Prize Award and Consolation Prize from the FoSTAT Food Innovation Concept Contest 2021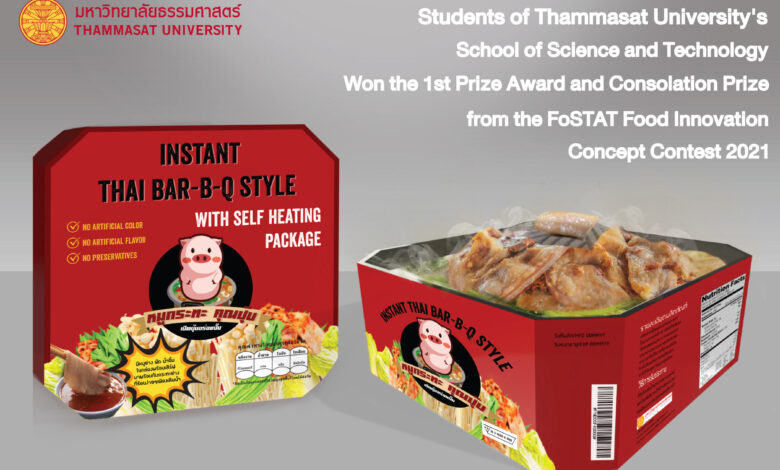 Khabuankarn Sam Chan Ranger Team – Third-year students of the Program in Food Science and Technology, School of Science and Technology, Thammasat University, made a name for the Thammasat community by winning 1st prize in the FoSTAT Food Innovation Concept Contest 2021. This contest was for food innovations and organized in an online format. This year's theme was "Smart Food for the New Normal". The Khabuankarn Sam Chan Ranger Team included Miss Atikanon Luekitinan, Miss Passorn Lansai, Miss Ketmaneerat Srifabancherd, and Miss Chonthicha Imsombut. All four girls created a food innovation for mu kratha (Thai-style pan pork) lovers with the concept "Khun Pup's Instant Mu Kratha"
Miss Atikanon Luekitinan said that this food innovation originated due to the ongoing outbreak of COVID-19 prohibiting normal living and creating social-distancing limitations that make it hard to buy or eat out.  It was also brought about by the fact that ordering fresh ingredients for home cooking complicates things in terms of having to start a fire and equipment preparations. The team members thought of a mu kratha product that retains the unique characteristics of mu kratha, which are pork grilling, vegetables, and the fragrance of grilled pork, but which is also convenient for eating by not requiring a fire to be started or any equipment preparation, and this led to the idea for "Khun Pup's Instant Mu Kratha".
Miss Ketmaneerat Srifabancherd added, "Khun Pup's Instant Mu Kratha is an instant mu kratha product composed of a single box and is capable of providing 540 kcal of energy. It can be eaten without needing a charcoal fire or electricity. An MRE heater bag is used to provide heat to the food. The packaging degrades easily and is environmentally-friendly. In addition, the box is divided into 2 octagonal levels. The bottom level is made of polypropylene plastic that is degradable while being heat-resistant and sturdy; it is used for holding the MRE heater bag. Meanwhile, the top level functions like a mu kratha stove to simulate the experience of eating at a restaurant and is made from recyclable aluminum foil."
"Our product contains pork, vegetables, glass noodles, concentrated soup and a delicious dipping sauce.  And the distinguishing characteristics of mu kratha are retained after the product is reconstituted. These include the flavor and soft texture of the grilled pork and the vegetables with their nutritional contents and good texture retained. The pork, soup, and dipping sauce have low acidity, so they were sterilized by a retort machine with Fo value higher than 3 minutes. Meanwhile, the boiled vegetables are freeze-dried, and the instant glass noodles are pre-gelatinized and then baked dry, so they can be reconstituted in hot water. All of these processes have made our product storable at room temperature for up to 1 year," Miss Passorn Lansai said.
Miss Chonthicha Imsombut said that an actual product might be created in the future, followed by a potential patent registration and a market survey in Thailand and abroad. Then the product might be introduced to small markets to observe consumer reception. The product will be promoted for crowd-funding on a funding platform or website, and associated legal actions will be taken to begin manufacturing the product for sale in the country and abroad. The product will be developed continuously with quality control to ensure that the product's quality is always good and able to stay for a long time in the market.
Furthermore, the Kinnii team was made up of third-year students of the Program in Food Science and Technology, School of Science and Technology, Thammasat University, namely, Miss Nanisa Thanusin, Miss Paksupa Kittichokwattana, Miss Sabaithip Niyom, Miss Thanachaya Kaewmeekha, Miss Chananchida Srikachornwutthisak, and Miss Neeranuch Santisukmongkon received a consolation prize from this contest for their food innovation under the "JoyBite" concept.
"JoyBite" is a 2-in-1 granola milk ball product that can be eaten as a snack or added to hot, lukewarm, or cold water for the milk to be dissolved and for it to be consumable as a milky grain breakfast cereal. The product contains all five food groups and is a good source of protein, calcium, and Vitamin B2. In addition, it contains no trans fat, nor preservatives, and it has a long storage life. The packaging is also environmentally friendly and contains a double-sided utensil, whereby one side serves as a spoon for scooping and the other side is a fork for use with snacks; it is packed under the lid of the package. The product contains granola ingredients such as oats, purple rice, cashew nuts, and powdered coconut sugar. The ingredients are locally sourced, and the products are round in shape with milk mixed on the inside and glazing on the outer surface. Each package contains five balls, has a net weight of 30 grams and provides 130 kcal of energy per cup.