Research
Thammasat University honoured with 5 awards from the 48th International Exhibition of Inventions of Geneva, aiming to be the "leading university on research"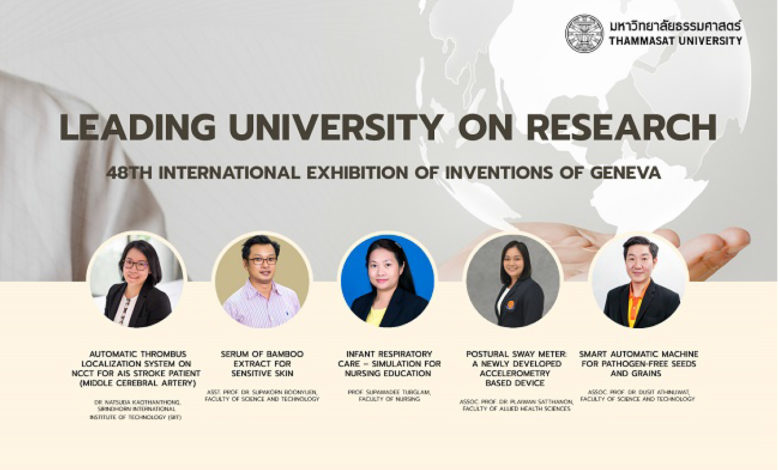 Thammasat's Smart City is another agenda that Thammasat University has directed its efforts towards producing a first-class research and innovation center that responds to the needs of both domestic and international communities. This allows Thammasat University to become not only a center for learning, but a place that allows the workforce to come together and work for the future. During 10 – 14 March 2021, a team of researchers from Thammasat University created outstanding works and has won 5 awards from the 48th International Exhibition of Inventions of Geneva at Geneva, Switzerland which was held as virtual event.
The awards received consist of 3 silver medals and 2 bronze medals as follows.
Silver Medals
Automatic thrombus localization system on NCCT for AIS stroke patient (Middle cerebral artery)) by Dr. Natsuda Kaothanthong from Sirindhorn International Institute of Technology (SIIT)
This system helps analyze NCCT images to automatically locate the thrombus so that the physicians can plan a treatment quickly by using image processing to identify the Sylvian fissure and circle of Willis and the area of the brain that tends to have blood clot by using data science combined with machine to identify locations close to the method used by radiologist since currently CT image is used in combination with contrast media to locate the coronary blockages. However, the use of contrast agent cannot be performed immediately, and it is not suitable for patients with allergic reactions.
Serum of bamboo extract for sensitive skin by Asst. Prof. Dr. Supakorn Boonyuen, Faculty of Science and Technology
The serum minimizes skin inflammation and wrinkles including free radicals. It also contains Isoorientin, a small compound that can penetrate and moisturize the cells which makes skin radiant and healthy, preventing cell deterioration from today's pollutions. The use of bamboo leaf extracts as a cosmeceutical skincare is a research project that adds value to biological waste. In addition, it generates income for Thai farmers. The petty patent has been made for the extraction process and serum has been already registered and listed by FDA and produced by an accredited cosmetic company.
Infant respiratory care – simulation for nursing education by Prof. Supawadee Tubglam, Faculty of Nursing
This is a teaching media innovation for simulation-based learning in nursing education: Infant respiratory care. It consists of automatic devices of adjustable bed and infant model used in nursing practice for pediatric patients with sputum retention. The device can be programmed automatically according to the infant model's abnormal breath sounds and the results will be displayed through the computer or tablet control panel. It allows students to recognize the results of real-time nursing practice decisions.
Bronze Medals
Postural sway meter: a newly developed accelerometry based device by Assoc. Prof. Dr. Plaiwan Satthanon, Faculty of Allied Health Sciences
It is an assistive device that gives warning prior to loss of balance that could occur in daily activities of the elderly or those at risk of falling. It measures the balance performance/posture that allows the body to maintain equilibrium without falling. It is a specific measurement for each individual. The risky angle is then configured together with a warning system. If there is a potential threat to falling, the warning system will sound a vibration and/or sound. It is also a device to assess the balance performance and stabilization training equipment working in vibration and/or sound to enable adjustment of appropriate body posture.
Smart automatic machine for pathogen-free seeds and grains by Assoc. Prof. Dr. Dusit Athinuwat, Faculty of Science and Technology
This device is used to reduce pathogens in industrial crop seeds. The water temperature used for seed treatment can be controlled automatically from 1-95 degrees Celsius, which the temperature error at each point will not exceed ± 0.1 degrees Celsius. Its temperature control system is Microprocessor Controller.