Uncategorized
Thammasat University proactively screens Covid-19 patients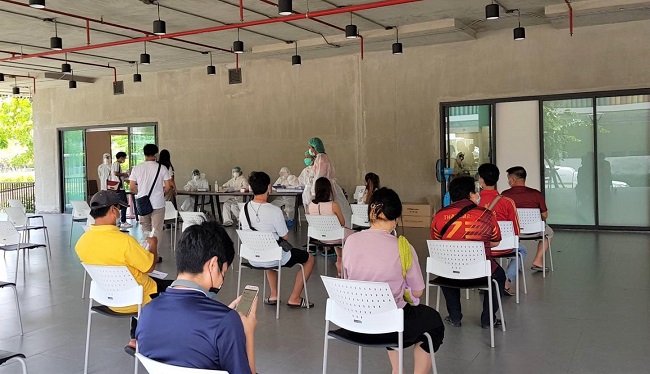 Thammasat University has proactively screened over 3,000 COVID-19 patients in order to ease the burden on the medical professionals.
Thammasat University together with the Office of Disease Prevention and Control Region 4, Saraburi, proceed with proactive screening of COVID-19 infection for people residing around Rangsit Campus including students, teachers, staff free of charge during May 1-5, at SC3 Building, Thammasat University, Rangsit Campus.
Assoc. Prof. Gasinee Witoonchart, Rector of Thammasat University, explained that the area of Pathum Thani, Nonthaburi and Bangkok had been declared as the maximum and strict COVID-19 control areas. (Dark red zone). For this reason, people residing in these areas were getting worried and might be at risk of infecting COVID-19. Thammasat University has, therefore, collaborated with the Office of Disease Prevention and Control Region 4, Saraburi, to conduct proactive screening for people in Pathum Thani province and communities in the vicinity of the university including those in the university.
Assoc. Prof. Gasinee said that Thammasat University has taken into account the safety of the Thammasat community and those who reside in the surrounding areas. Thus, not only Thammasat people were taken care but those who work in the university such as merchants, security guards, janitors, migrant workers, including people in the area were encouraged to have the screening to ensure that the university was a safe place.
For this COVID-19 test, 3,093 people registered for testing with RT-PCR (Real Time Polymerase Chain Reaction). The Office of Disease Prevention and Control Region 4, Saraburi, has brought 2 Biosafety Mobile Units and an Express Analysis Mobile Unit donated by HM the King to use as the mobile laboratory for COVID-19 analysis outside the hospital, which helped reduce the sample transportation problem and waiting time for analysis results.
"Thammasat University would like to take care of Thai people and foreigners in order to support the government and control the spread of COVID-19 with our resources to aid those who reside in the area and ease the burden on medical professionals who are fighting this crisis for our nation. We are proud to carry out these operations as the University for the People," Assoc. Prof. Gasinee said.