Research
The World's First Discovery on Cannabis Compounds Found in "Trema Orientalis (L.) Blume"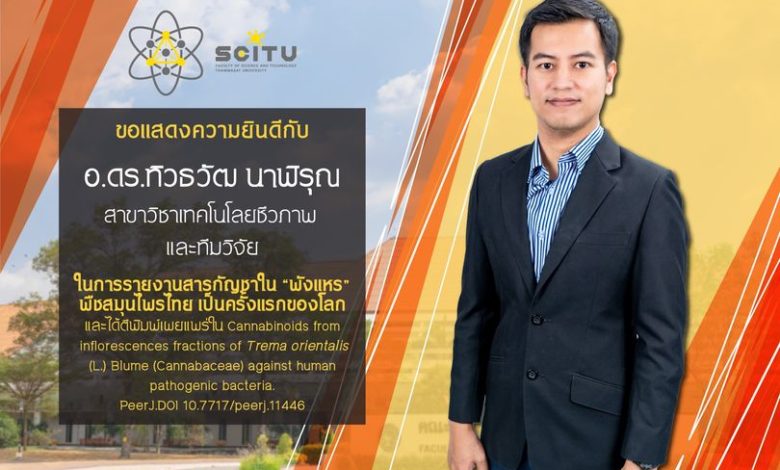 The Faculty of Science and Technology, Thammasat University would like to congratulate Professor Dr. Tiwtawat Napiroon from the Department of Biotechnology and the research team for the world's first discovery on the study of Cannabis compounds found in "Trema orientalis (L.) Blume" which was published in PeerJ Journals website (DOI 10.7717/peerj.11446) in the subject of Cannabinoids from inflorescences fractions of Trema orientalis (L.) Blume (Cannabaceae) against human pathogenic bacteria.
"Trema orientalis" is a little-known medicinal plant. It was discovered for tangible usage for the first time in Thailand and the world. It is one of the species in the Cannabaceae family that is commonly found in forests, agricultural areas and blighted land. Its origin and distribution are throughout tropical Asia. It was reported that all parts of the plant have an interesting benefit as the treatment of infectious diseases.
The research used the taxonomic, biomolecular, phytochemical and ethnobotanical data integrated with the research conducted by pharmacists, Assoc. Prof. Dr. Wichai Santimaleeworakul, Head of the Department of Pharmacy, Faculty of Pharmacy, Silpakorn University, Asst. Prof. Dr. Keerati Tanruean and Asst. Prof. Dr. Pisit Poolprasert from the Department of Biology, Pibulsongkram Rajabhat University and Mr. Manop Poopat, Forestry Officer from Forest Botany Division, Department of National Parks, Wildlife and Plant Conservation with the support fund from Agricultural Research Development Agency (Public Organization) or ARDA for Thai Medicinal Plants. It led to the importance of phytochemicals for each part of the plant and biological activity that are consistent with the treatment of infectious diseases according to local wisdom.
Trema orientalis is used for treatment involving antibacterial infection in the human respiratory system. The test bacteria are drug resistant according to the monitoring of World Health organization (WHO). In addition, it is the first-time discovering Cannabinoids or commonly known as Cannabis compound. The extracts and fractions of
inflorescences displayed cannabinoids in THC, CBD and CBN.
It was quite an extraordinary achievement that this piece of research was accepted and published in the well-known life, biology and medicine journal like the PeerJ from the United States. The research team and ARDA are preparing other parts of report as well as the development of pharmaceutical products from this medicinal plant to be further publish in this journal.