Learning
Thammasat Business School students win first prize at CFA Research Challenge in Thailand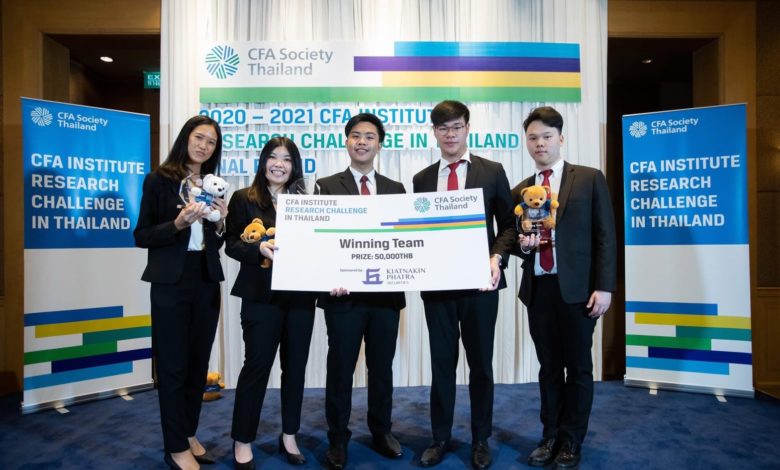 Students from Thammasat Business School (TBS), Thammasat University, once again retained the champion of CFA Research Challenge in the Thailand Championship. This event is the stock analysis competition participated in by students from leading universities across the country to win the championship and become a national representative for inter national round.
Mr Athipat Siripongpat, a 4th-year student from Finance & Marketing, BBA International Program, Miss Chalermlak Tantiwiwatkul, Finance Major, Miss Darin Laocharoen, Finance Major, Mr Krittapas Siritapaneeya, FinanceMajor, and Mr Puttinat Krungkraipetch, Finance Major were part of the winning team.
Mr Athipat Siripongpat said "The case we received this year was the "PTG stock analysis" case which the main business is PT gas station. We had only10 minutes for report preparation and presentation. We set milestone planning by performing a preliminary analysis and determining the deadlines of each task. It is not easy to do an in-depth and full analysis as we were allowed to use only the existing public information.
The winner of the national round will be the representative of CFA Thailand and participate in the sub-regional, regional and global round. It has been a challenging 5-months competition. The CFA questions are different each year based on a wide range of industries, such as consumer goods, real estate and services.
This year's question is PTG, which is in the energy industry. The challenge is the complexity and specific data of the energy industry, e.g., oil and gas value chain, marketing margin, and the retail price structure. It took us some time to have a clear understanding of the company and the energy industry.
Knowledge obtained from the BBA class was adopted for the challenging competition. The skills used mostly are from the finance classes, such as financial modelling for price evaluation and recommendation. In addition, economics is also used to analyze the overall direction of the economy.
"Our key success factor is teamwork and great collaboration. We realize that this game requires a lot of preparations. Working individually may save time but work as a team makes all of us understand everything more clearly, equally and simultaneously especially while we are trying to do an in-depth analysis of the information and to minimize errors as much as possible." added Mr Puttinat Krungkraipet.