Partnerships
Thammasat University partners with EGAT on energy solutions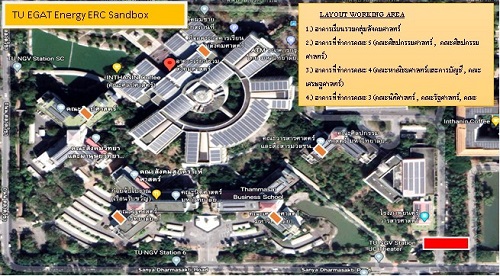 Electricity Generating Authority of Thailand (EGAT) and ThammasatUniversity worked on the ERC Sandbox: TU EGAT ENERGY project expansionto develop the new business on "Smart Energy Solutions". It aims todevelop innovative one-stop electricity service solutions which arebeneficial for further collaboration and national development.
Dr. Somchai Chokmawiroj, Director of Research and Innovation Division atEGAT informed that a team from EGAT's Research and Innovation Divisionand Business Development Division discussed with Dr. PrinyaThaewanarumitkul, Vice Rector of Thammasat University (TU) to update anddiscuss plans on the expansion of the project to the new business, SmartEnergy Solutions.
Currently, the project implementation by Thammasat University hasprogressed more than 60%. EGAT had the Smart Meter set up and alreadycollected the data at the centre. Furthermore, EGAT already prepared areport to study the new service fee structure such as Net Metering and NetBilling. The project is expected to be completed by March 2021.
After completing the testing phase of the ERC Sandbox: TU EGAT ENERGYproject, EGAT will collaborate with Thammasat University to study thepossibility of project expansion.
The overview of the ERC Sandbox project implementation will encourage aneffective competition that is consistent with the world energy outlook, andenergy-cost efficiency in the future.
Additionally, EGAT in collaboration with Thammasat University plans toexpand new business in Smart Energy Solutions, such as buildingmanagement system development, electric vehicle charging stationdevelopment for electric boats and cars, including replacement withelectric shuttle buses for university employees and electric boats forstudents, etc.
"Encouraging the ERC Sandbox project collaboration between EGAT andThammasat University as well as approaches of promoting Smart EnergySolutions in the future is a good sign to progress with a new role inconducting energy industry business, energy-related business and otherbusiness, including exchanging knowledge and seeking mutual businessopportunities for broader benefits for organizations, country and people inorder to strengthen the energy security according to the governmentpolicy." concluded EGAT Research and Innovation Division.