Learning
Skills in demand 2025: Technology, data and design are integral to the future of work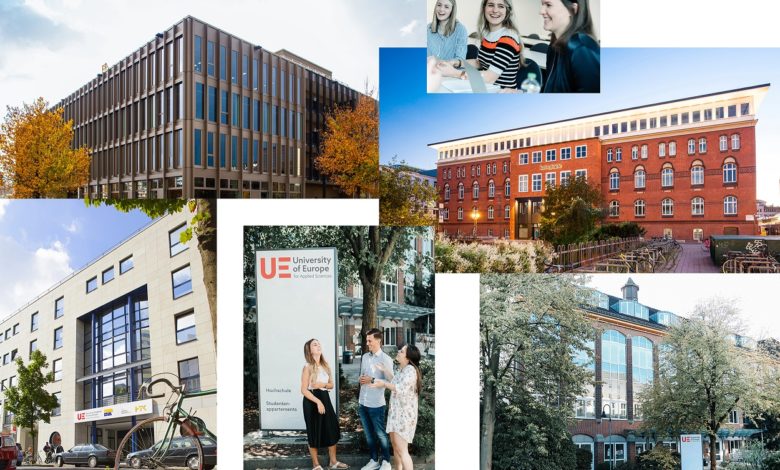 According to the latest "The Future of Jobs Report" by the World Economic Forum, the most important skills for employees in 2025 will be technological design and programming, creativity, originality, initiative, complex problem-solving and innovative thinking. In addition, increasing automation is leading to a higher demand for functions that promote interaction between humans, machines and technology. An important prerequisite for keeping up with these demands is multidisciplinary university teaching in combination with design, tech and business. The new Innovation Hub of the University of Europe for Applied Sciences (UE) provides a multidisciplinary environment to maximise student growth, development and career prospects.
Why we should no longer think of different professional fields as entirely separate
We already unconsciously deal with the effects of many technological developments in our everyday lives: we often get the chance to consent as to whether or not our data is used and processed. We also work with user interfaces on our mobile phones, when booking train tickets, talking to chat bots when shopping online, using streaming or delivery services.
In our daily lives, we already deal with these technologies and contribute to them becoming more widespread This leads to questions such as how can companies make use of the immense amount of data and how can this use be visualised and made more understandable?
Professor Iris Lorscheid, who teaches Data Science at the new UE Innovation Hub at the University of Europe for Applied Sciences, states: "This data visualisation is directly related to UI and UX design, creative computing and innovative design management. Professional fields will no longer be thought of separately from each other, but will have to work more closely together in the future in order to be innovative. Only the combination of the knowledge areas of tech, data and design creates innovative products and services. Business knowledge rounds off the profile of skills that are in demand."
Creativity creates innovation – it is no longer possible to imagine competitive companies without it
Creativity in companies and management is increasingly in demand, because in the course of international economic and social change processes, companies must become more adaptable. Only those who are innovative and can detect social trends and act quickly will prevail in the market. The creative abilities of employees and managers are in demand. Today, international competition is no longer about who has the most knowledge. Success is increasingly measured by how creatively and how quickly new knowledge can be generated and converted into products. This is where Innovation Design Management comes in, by empowering leaders and companies to become more adaptable, innovative and creative.
"The humane design of the digital transformation is the greatest entrepreneurial task of the 21st century. Humane here means people-centred, ethical, sustainable, experience-oriented. Digital transformation is worthless if innovations are not guided by these criteria," explains Johannes Kiessler, Professor and Programme Director for the M.A. Innovation Design Management master's programme at the UE Innovation Hub in Potsdam. "Like no other discipline, Innovation Design Management integrates human-centred methods in the generation of innovative and experience-oriented products. Most importantly, it can help companies create the cultural conditions to accomplish this task."