Partnerships
Almaty Management University Joins Global Network of Innovative Universities Working to Meet the Growing Demand for Quality Higher Education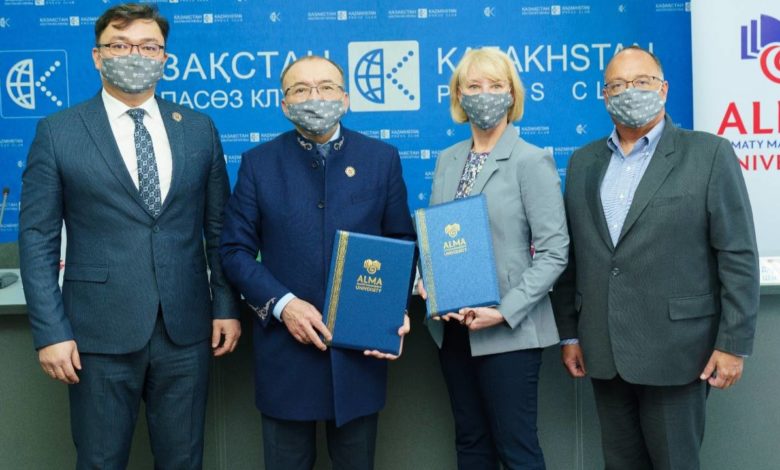 Almaty Management University (AlmaU) has announced a new initiative to expand the institution's academic programs in order to serve the fast-growing demand for postsecondary education across Kazakhstan and Central Asia. As part of the initiative, the university has joined the Cintana Alliance, enabling its students to benefit from collaboration with some of the world's most innovative institutions. In addition to benefitting from cutting-edge curriculum and learning practices, AlmaU students will have the opportunity to earn a degree from the Alliance' flagship partner, Arizona State University.
In the last five years, Kazakhstan has seen a steady growth in postsecondary education: in 2015 there were 459,000 undergraduate students enrolled in universities and by 2019, 604,000 students had enrolled. AlmaU is focused not only on serving more students across the region but on developing new academic programs in fields such as technology and engineering, communication, health sciences, art and film to prepare students for a rapidly changing global economy.
"Central Asia is at a critical moment: we must think strategically and boldly about how we educate our future generations and invest in our local economies. We can think of no better partner to embark upon this challenge with than Arizona State University—a university known globally for its innovations in teaching, research, and technology," said AlmaU President Dr. Assylbek Kozhakhmetov. "This collaboration, which will bring the best practices of university management to Kazakhstan, is unprecedented in the Central Asian region".
Among 100 institutions in the country, AlmaU was selected to join the Cintana Alliance, a global network of ambitious universities working together to build and scale high-quality academic programs that respond to their country's economic needs. The Alliance was established through a partnership between Cintana Education and Arizona State University. Named the most innovative university in the U.S. by U.S. News and World Report and one of the world's most prestigious universities by Times Higher Education, Arizona State University has grown its student body by 40 percent in five years, while boosting retention and graduation rates for students from all backgrounds.
Designed by President Michael Crow, an internationally recognized expert in higher education, the Arizona State model is built on the philosophy of expanding access to higher education for students from diverse social groups around the world and assuming fundamental responsibility for the economic and social health of the communities it serves.
"Quality education is the single greatest tool for social mobility, and yet it is a scarce resource in many regions. AlmaU has demonstrated entrepreneurial leadership in ensuring the country's postsecondary education keep pace with the economic transformation taking place in the region," observed Dr. Stefanie A. Lindquist, Senior Vice President for Global Academic Initiatives at Arizona State University. "By joining the Cintana Alliance, AlmaU can tap the expertise of other innovative institutions like Arizona State as well as members from around the world. Together, we are creating greater access and opportunity for students, for faculty, and for the communities our institutions serve."
As a member of the Cintana Alliance, AlmaU will have access to Arizona State's online curriculum and expertise in digital learning earning, insights into how to build a world-class research program, and articulation agreements that enable students to earn an Arizona State credential or degree. AlmaU will work with Cintana's team of experts who have decades of experience in building and growing universities around the world.
The collaboration between Arizona State and AlmaU is expected to strengthen domestic higher education and promote Kazakhstan's brand in the international scientific and academic environment.
"Today, AlmaU is one of the top private, not-for-profit universities in Kazakhstan, with the vision to be a world-class entrepreneurial and innovative university," said Dr. Rick Shangraw, President of Cintana Education.  "We warmly welcome the institution into the Cintana Alliance, and look forward to supporting the institution's work to transform higher education in the region."
About Almaty Management University
AlmaU, Almaty Management University is Kazakhstan's first private university, was founded in 1988. It is an internationally recognized, globally accredited and award-winning university in Kazakhstan. AlmaU's MBA programmes are the only ones in Central Asia and Kazakhstan globally accredited by the AMBA (2013-2021). AlmaU's Executive MBA programme ranks in the top 100, MBA programmes in the top 200 globally and top 25 in Asia in the QS World University Rankings: Global EMBA/MBA 2021. AlmaU is ranked #301+ in the Times Higher Education Impact Ranking (2020). Programmes "Public Relations", "Marketing", "Economics", "Law", "Restaurants and Hospitality" and "Logistics" are ranked in the top 10 by the National Ranking Atameken (2021).
About Arizona State University
Arizona State University has developed a new model for the American Research University, creating an institution that is committed to access, excellence and impact. ASU measures itself by those it includes, not by those it excludes. As the prototype for a New American University, ASU pursues research that contributes to the public good, and ASU assumes major responsibility for the economic, social and cultural vitality of the communities that surround it.
About Cintana Education
Cintana Education enables universities around the world to increase quality and scale in order to provide more students with the education they need and deserve. We provide world class expertise and access to our own proprietary resources as well as those of Arizona State University, a top-ranked university that shares our vision of expanding access through growth and innovation.  Together, we are building the Cintana Alliance, an international network of universities that will work together to meet the rising global demand for high quality post-secondary education.
More info at https://almau.edu.kz/en/news/almaty_management_university_joins_global_network-13008