Learning
Teaching Kazakhstan's Rectors: AlmaU Launches Special Management Program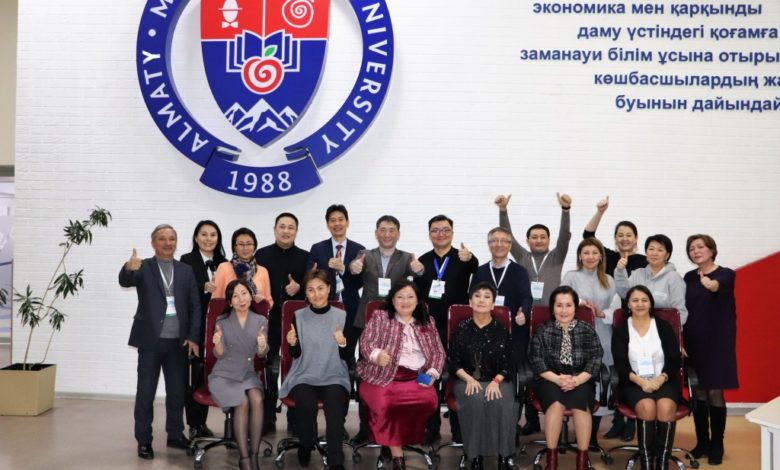 Almaty Management University launched the first educational intensive "Management of University – 2020" for top managers of universities of the Republic of Kazakhstan, with the support of the Ministry of Education and Science of the Republic of Kazakhstan.

The purpose of the training is the implementation of the tasks specified in the state program for the development of education and science for 2020-2025 and increasing the effectiveness of universities on the basis of retraining Rectors and Vice Rectors of the Republic of Kazakhstan to increase personal competitiveness and achieve success in management activities.

AlmaU partnered with Education Transformation Center of the Moscow School of Management SKOLKOVO, the Institute for the Development of Education of the Higher School of Economics, the National Research Technological University MISiS, the Skolkovo Institute of Science and Technology (SkolTech), and Sberbank Corporate University (Russia).

The President of AlmaU, Assylbek Kozhakhmetov (CEEMAN Vice President for Central Asia) who took part in the program as the scientific director, introduced participants to the goals and objectives of the training. Assylbek Kozhakhmetov: "You are expected to consider specific cases of the best practices of Russia, Kazakhstan, and Georgia. Here we approach the development of universities in the context of the impact of universities at the economic and personal level. I believe that within the 2 and 3 modules of the program, the practice is to visit the best universities in Moscow, a discussion with professional experts on the development of higher education in Kazakhstan, and productive networking will give the best results to enhance overall work. "

The 5 day intensive program included many well-known speakers and experts in University management from CIS countries, including Mikhail Balyhin – Rector of Moscow State University of Food Production, Dmitriy Sudakov – Head of the Atlas of New Professions project, expert of the International Design and Research Alliance of the Young Professionals Union, etc.

The program organized by AlmaU has brough up the first step towards transforming the thinking of top managers who are ready for change.