Learning
The School of Global Studies, Thammasat University, launches Thailand's first Doctoral Programme in Social Innovation and Sustainability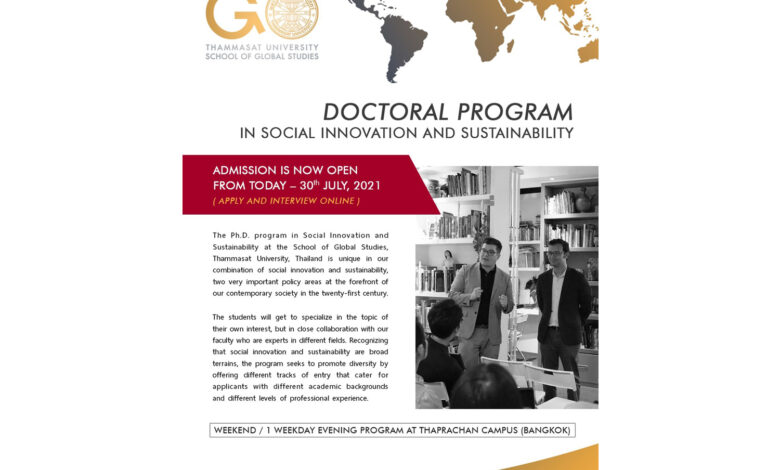 The PhD programme in Social Innovation and Sustainability at the School of Global Studies, Thammasat University, Thailand, is open for admission from today until July 30, 2021.
On July 6, 2021, The School of Global Studies (SGS), Thammasat University, held the "Introduction to the SGS programmes" webinar to introduce its programmes to the public. The school is comprised of three social science programmes: 1. The Bachelor of Arts in Global Studies and Social Entrepreneurship; 2. The Master of Arts in Social Innovation and Sustainability; and the newly established 3. Doctoral Programme in Social Innovation and Sustainability.
In this webinar, the Dean of SGS – Assistant Professor Prapaporn Tivayanond Mongkhonvanit, PhD – talked about the common spirit shared by the three programmes: "At the aggregate level, the school has been at the forefront of various issues; whether it's globalisation, innovation, or entrepreneurship. Those are the important concepts and segues where we try to bridge and make the connection between theory and practice, and basically, try to integrate real events to our understanding and our theory of social sciences."
"We have been trying to make the vital connection between globalisation and localisation, to substantiate what it means to have these experiences and to extend that to the global framework. As for innovation and entrepreneurship itself, we try to expand the base not only at the private sector level, but we try to bring entrepreneurship to the policy level, to civil society, to the public spheres as well. This is an important element that we try to encourage and support our students to embrace. Hopefully with that sort of knowledge set, you can focus more on the issues that are relevant, for example, in your thesis and in your study," says Asst Professor Prapaporn.
If you are someone who has at least a master's degree (in any academic field) and are interested in social innovation or sustainability, the School of Global Studies would like to welcome you to apply to our one-of-a-kind PhD programme – The Doctoral Programme in Social Innovation and Sustainability.
Programme Overview
The PhD programme in Social Innovation and Sustainability at the School of Global Studies is unique in its combination of social innovation and sustainability, two very important policy areas at the forefront of our contemporary society in the twenty-first century.
The students will get to specialise in the topic of their own interest, but in close collaboration with our faculty who are experts in different fields. Recognising that social innovation and sustainability are broad terrains, the programme seeks to promote diversity by offering different tracks of entry that cater for applicants with different academic backgrounds and different levels of professional experience.
The PhD programme will provide an open environment for critical dialogue. The aim is to be highly interactive with workshops, seminars, case studies, subject experts, and practitioners engaging in the discussion of key concepts, theories, frameworks, and emerging ideas for creating, developing, and enabling social innovation in the public, private and social sectors in the region. Learners will have the opportunity to participate in research seminars and conferences inside and outside the universities.
Who is this programme for?
You may be a person who is working in academia and looking to re-tool and enhance your research skills or you may be a leader in an NGO, international aid agency, or foundation trying to employ research skills to better measure the impact of your interventions. Or you may be working for the government and policymaking space where your job involves analysis of the policies and plans to achieve the desired outcomes. Or you may be involved in assessing the environmental impact of the commercial activities from private sector. You might also have just completed your undergraduate or first graduate degree and are looking forward to having a research degree. No matter what profession you are in, if your job requires you to use research skills, this degree is for you.
In recognition of the fact that social innovation occurs across all sectors, the PhD is aimed at middle and senior level leaders in NGOs, public bodies, and the private sector. You will form a key part of a strategy to engage with individuals and organisations working specifically to develop novel 'solutions' to deep-rooted problems of poverty and inequality in both rich and developing countries.
Learn More about Our Programme: https://sgs.tu.ac.th/phd/