Research
Thammasat University Develops an AI Innovation to Identify and Monitor Mask Usage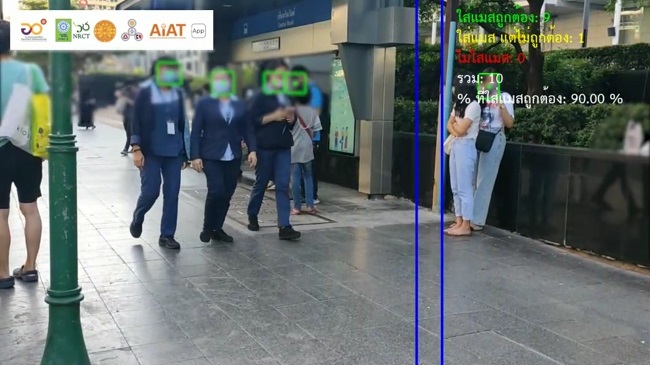 Ministry of Higher Education, Science and Research and Innovation (MHESI) together with the National Research Council of Thailand (NRCT) and Thammasat University have developed an innovation using AI to detect, analyze and report face mask usage in each area and provide real-time results. The real-time scanner is to provide support for the COVID-19 protection at the Center for Covid-19 Situation Administration.
The innovation is developed by Professor Dr Thanarak Teeramankong and Dr.Kobkrit Viriyayudhakorn, Professor at Sirindhorn International Institute of Technology (SIIT), Thammasat University. The innovation applies images and video processing technology that can detect the number of people wearing masks and check how many of them are not wearing masks or whether they are wearing the masks properly.
The results enable the center to evaluate if each area is to be considered a "risk area' or whether it is necessary to educate the people on how to properly wear the mask.
Professor Dr Thanarak says that this innovation can provide a real-time result in terms of seconds using a color-coded method. For example, green indicates people who wear a mask properly. Yellow indicates people who are not wearing a mask properly. Red indicates people who are not wearing a mask. However, although the innovation is ready to use, there are still some problems and limitations in most areas outside of Bangkok.
"If we can access all data, we will know the numbers of people wearing masks and social distancing in each area. In the future, we are determined to install this program in crowded areas such as in mass rapid transit. We also hope to display this data along with a daily press release from the COVID-19 panel.", said Prof.Dr.Thanarak.
Prof.MD.Sirilerk Songsivilai, the Deputy of MHESI, states that data from AI analysis is critical for the nation and beneficial for personnel management. In the future, it is certain that if the program can report real-time results of mask-wearing and risk areas, it will help us to manage the epidemic situation more effectively.
"Apart from monitoring mask-wearing, this innovation also can detect movement and social distancing rate of the citizens. Moreover, the temperature monitoring system is also highly developed and can provide real- time results on the number of people having high temperatures in that area. Therefore, the two innovations will help us cope with the pandemic efficiently.", said Prof.MD.Sirilerk.
Dr.Wipharat De-Ong, Deputy Director of National Research Council of Thailand (NRCT), says that this innovation is the result of NRCT following MHESI policy that encourages the use of innovation to solve the new wave of COVID-19. Afterwards, the Office of the Permanent Secretary will contact Bangkok Metropolis to use daily data from CCTV and implement AI to do behavior evaluation in crowded areas before using it in other provinces nationwide. The deputy ensures that there will be no invasion of privacy from this operation.
Mr.Taweesilp Witsanuyotin, a spokesperson for the Center for Covid-19 Situation Administration, thanked the Ministry of Higher Education, Science and Research and Innovation (MHESI) for the cooperation with the Center for Covid-19 Situation Administration.
Associate Professor Gasinee Witoonchart, Rector of Thammasat University, says, "Innovation that TU's professors developed is called Image Processing technology. It is a new technology that has been used for about 2 years. TU implemented this technology during COVID-19 situation as it can provide more accurate results. The university believes that this innovation will be a crucial tool for the government and citizens to deal with the pandemic effectively.
"Thammasat is aware of its role as the university for people. In every national crisis, we will take part in preventing and solving the situation. As a leading educational institution, the university has the necessary resources in terms of professors, funding, knowledge, and research works. Therefore, we do not hesitate to use it to help people. Moreover, this recent innovation is one of our proud works that Thammasat has done for the country and we will continue doing this in the long run.", said Associate Professor Gasinee.